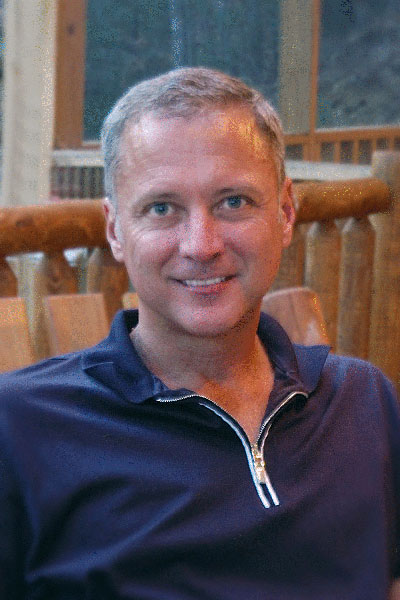 Tim Goodwin
Founder
The Beginning – the very first rental cabin
I initially founded Watershed Cabins in 1998 with a close friend. We built the first cabin with the idea of enjoying it part-time as a personal vacation home and renting it out to others the rest of the time. Before this first cabin was even completed, it was evident that the growth potential of the area was a huge opportunity. We put expansion plans in the works immediately. We took note that while many of the regular outdoor enthusiasts were coming up for mountain biking, hiking, rafting, and all the great things in the area, they were longing for a better place to stay. The plan for providing a more luxury level rental was becoming a proven winner, and the rest is history.
Initial Growth – vacation rental management
The idea took off and soon private owners started knocking on the door asking Watershed to manage their rental cabins. We combined this growth with the purchase of 50 acres at the intersection of Needmore Road and Highway 74. This corner is sort of the "gateway" to the most popular outdoor attractions: the Nantahala Outdoor Center just 4 miles west and the Tsali mountain bike trails as far to the north, and Bryson City is 8 miles to the east.
With the purchase of this property, which eventually became the Watershed Resort, the company started looking like what it is today. That is aprofessional vacation rental management company with an excellent staff and commitment to quality. In addition to the Resort property, the collection of Watershed Cabins includes off-site cabins ranging from custom, hand-crafted, luxury log homes to "value" cabins. There's a unit for everyone's budget, and they all have a hot tub, comfortable furnishings, and the same level of cleanliness and quality.
Watershed Resort – something different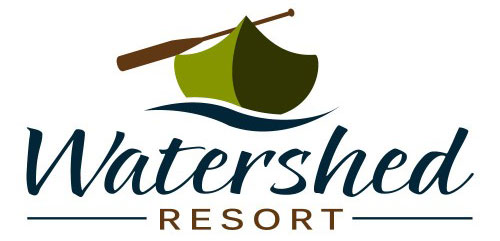 In 2010, finishing touches on our 50-acre property were complete. We branded this resort-like community as the Watershed Resort property. The well-rounded collection has proven highly successful. The privately owned units all over the county are among the most popular in the area. Still, these were all single family homes. We wanted something to attract an even broader range of guest.
To offer something different, the Watershed Resort is on a cohesive large property with onsite amenties. There's no swimming pool or clubhouse (that's not what the mountain environment demands). But the Watershed Resort property does have a central community area with bocce ball, firepit, yard games. There is also a log-zebo with a bedswing perched perfectly at our lookout point to bid the sun farewell behind the western mountain ridge. You can also walk right from every unit to our well-maintained hiking trail. It runs throughout the property, passing by our full-sized Indian Tee Pee with kids' playground and widing down to our beautiful on-site trout pond and waterfall.
The cabins on this property are walking distance to each other and therefore attract family reunions, weddings, church and corporate groups. Yet each cabin still enjoys a level of privacy and seclusion to rent independently. This property is also home to our popular Treehouse units, which are one-bedroom accomodations in a 4-plex building priced no more than a luxury hotel room. It is also home to our collection of 3 one-bedroom Woodland Lofts, which with their flavors of industrial-modern styling. These may appeal to those wanting some urban influence as opposed to traditional log home styling. In 2015 and 2018, respectively, we added Watershed 3 and Watershed Point D. It was these units that started setting the foundation towards a new style we call "mountain-modern."
Smoky Mountain Modern takes off

Smoky Mountain Modern brand. This will include a new community called the Nantahala River Club, located inside the Rockledge development and on the banks of Fontana Lake. Rockledge has covered boat docks for all owners' use, a modern clubhouse, but the Nantahala River Club will have the jewel: a community swimming pool and social house. Check out the details of this on our separate website, www.SmokyMountainModern.com.
Conclusion
Tim Goodwin is the sole owner of the company now and still operates it from Atlanta, commuting most of his time to the mountains. You can sometimes reach him answering the reservations lines. You might also see him tossing the cornhole bags with friends at the Wateshed Resort. More likely, though, you'll enjoy meeting the incredible Watershed staff. That will likely be what impresses you. Come see us at Watershed…roughing it has never been so luxurious.