---
10 Reasons Why Dogs Love a Bryson City Vacation
Posted On Monday, July 25, 2022
---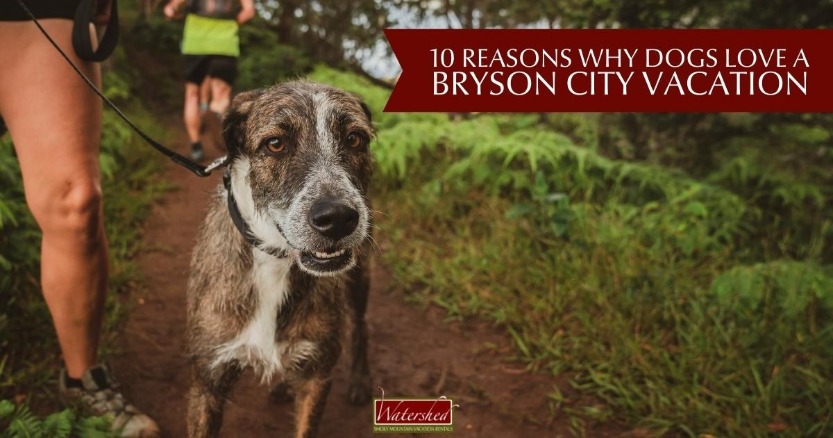 Have you been thinking about taking your dog to Bryson City, NC for a Smoky Mountain getaway? Then this is the post for you. With miles of hiking trails to explore, cool mountain rivers to splash around in, and bountiful fresh air to sniff, your pup will feel relaxed, loved, and ready for all of your daily outdoor adventures.
Today we're highlighting the top 10 reasons why your dog will enjoy this mountain vacation destination. After you read them over, it's time to take the next step in booking your pet-friendly Bryson City vacation. Now, back to the top 10!
1. Great pet-friendly cabins
Here at Watershed Cabins, we are happy to offer a long list of dog-friendly cabin rentals available to our guests. Everyone will be comfortable and feel right at home with these rentals that also offer amazing amenities for the whole family.
2. Dog-friendly Bryson City
Is Bryson City a dog-friendly place to visit? Yes it is! From the abundance of pet-friendly places that allow dogs, to the downtown streets that have fresh bowls of water for your pup to lap up—there are plenty of reasons why your dog will feel welcome in and around town. *Insert a few friendly pats on the head here.*
3. Room to roam
From the backyard of your Bryson City cabin rental to the expansive mountain landscape all around you, your dog will love the fresh air and freedom that can be found during your stay. This is your chance to explore more!
4. A whole lot of hiking trails
The Great Smoky Mountains National Park (GSMNP) does not allow pets on the hiking trails, except for the Oconaluftee River Trail. Dogs are allowed in the Deep Creek campground, picnic areas, and along roads (but not on the National Park trails), as long as they are on a leash. Trails in the Nantahala National Forest are pet friendly as are the Blue Ridge Parkway trails. You can read more about these and other dog-friendly hiking trails here.
5. Plenty of parks and places to play
Places like Island Park in the center of downtown Bryson City and right on the Tuckasegee River is a wonderful pet-friendly place for leashed dogs to explore. The entrance is located at the intersection of Ramseur and Bryson streets and is only four short blocks from Everett Street offering a secluded unspoiled landscape for all kinds of nature-centric activities.
The Swain County Recreation Park offers a walking trail just outside of downtown Bryson City. Take Everett St. to Depot St., then follow West Deep Road to the park.

6. Dog-friendly restaurants
Dog-friendly places to dine abound in Bryson City. Here's a list of places to eat with outdoor seating and where you can bring your pup.
7. New outdoor adventures to try
From dog-friendly paddleboard rentals and Fontana Lake pontoon boats to rafting down the Nantahala River, dog-friendly adventures await. Rolling Thunder River Company allows dogs that are 35 pounds or more on their river adventures. All three marinas on Fontana Lake have dog-friendly pontoon boat rentals. You can read more about your pet-friendly adventure options here.
8. Dog-friendly outfitters
Bryson City Outdoors is a great place to check out the outdoor outfitting for your dog's big adventures here in the Great Smoky Mountains. From personal flotation devices to walking harnesses and more, you and your dog are welcome to shop for what you need during your time here.
9. Dog-friendly beer drinking
Enjoy a brew with your BFF (your best furry friend)! Refer to the dog-friendly restaurant list previously mentioned in this post that includes the local bars and breweries where you can sip a cold one: Anthony's, Big Wesser, CJ's, Bryson City Taproom, Mountain Layers, and Nantahala Brewing are all on that list.
10. Memories in the making
Last but certainly not least on this top 10 list are the memories you're making with your dog by your side. As you can see, so many adventures are available during your vacation that you'll want to capture the moments for posterity. Enjoy all the quality time spent together, and don't forget to take photos to capture those special moments. Cheers to many mountain memories made together!
When are you bringing your dog to bryson city?
We want to know! Also check out our previous post on the top tips for traveling with your pup.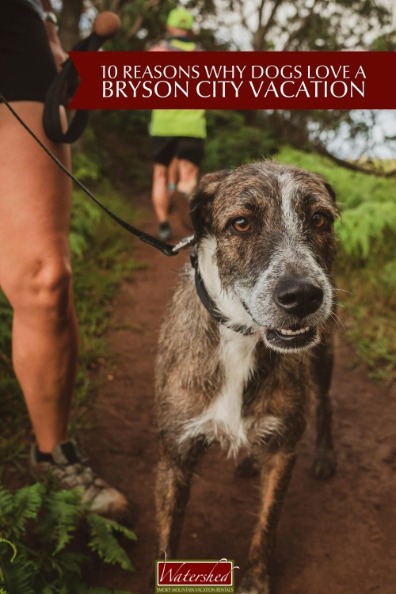 Comment on this post!