---
How to Have a Healthy and Happy Smoky Mountain Vacation in North Carolina
Posted On Monday, January 10, 2022
---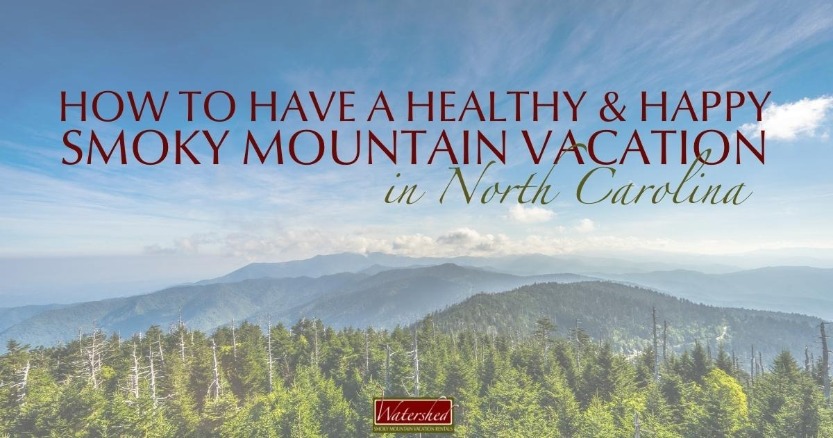 Welcome to the new year! What does it have in store for you? We hope it is filled with all good things that bring you health, happiness, and new adventures. Speaking of those things, have you planned your 2022 vacation yet? The last Tuesday of January is National Plan for Vacation Day, so now is the perfect time to book your next Watershed Cabins rental. Here's how to have the best North Carolina vacation in the Great Smoky Mountains. Cheers to health and happiness in all you do!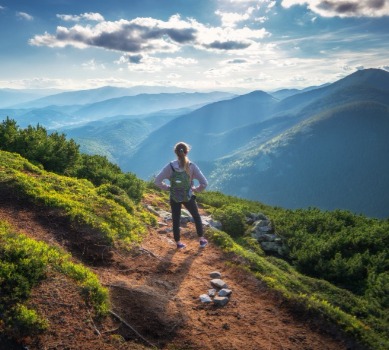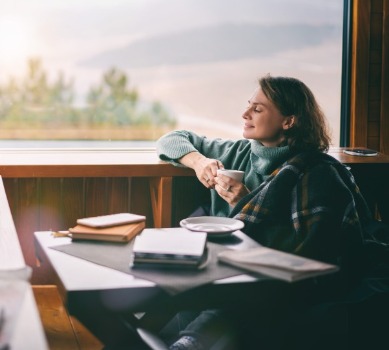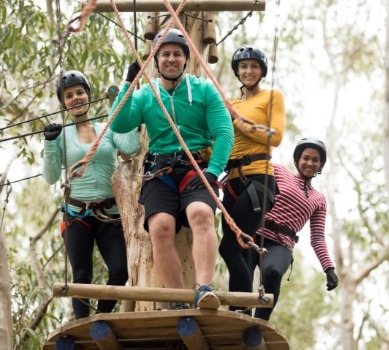 1. Enjoy the great outdoors.
We could all use a little more time spent in the great outdoors, right? Right! The benefits of getting outside on a daily basis are too numerous to mention here, but we can all agree that it's good for you to get fresh air, sunshine, and immerse yourself in nature. The simple act of going outside can boost both your health and your happiness. The Great Smoky Mountains of North Carolina are a wonderful place to do this. There are plenty of ways to get outside and do what you love.
2. Explore more.
When is the last time you hiked a new trail, climbed to a mountain's peak, paddled out into unknown waters, felt the spray from a waterfall, or strolled through a scenic mountain town? Explore more this year and put these things on your mountain vacation bucket list. Explore the natural side of life and/or the urban side of life where the Smoky Mountains are your backdrop for every kind of exploration you choose to do. You really can't beat the scenery.
3. Try something new.
There's no better way to get yourself out of a rut than to try something new. It's good for your brain. Challenge yourself to new endeavors that take you outside your comfort zone and expand your horizons in the coming year. What you choose is up to you, but may we suggest a ziplining adventure, a whitewater rafting excursion, trout fishing, tubing, or mountain biking? These are only a few of the many local favorite adventures and activities that you can enjoy here.
4. Make your own meals in your cabin.
If healthy eating is on your list of resolutions this year, Watershed Cabins vacation rentals make that incredibly easy. With full kitchens that come standard in our cabins, you can keep to your dietary preferences and make the kind of meals you want to eat. Of course you can go out to eat, too, but it's nice having the option to dine in whenever you want. Our cabins are considered 'fully stocked' which means all linens, towels, kitchen supplies and other basic items are included. Your mountain cabin rental will feel like home, but better!
5. Spend time doing what you love.
A vacation is a time to nurture your soul. Everyone has a different idea about what makes a good vacation. Just as our cabin rentals are unique, so are our guests. So, what is it that you love to do? What inspires you? What relaxes you? Do those things! Vacations are good for you and science has proven that they provide a plethora of health benefits for your mind, body, and spirit.
You next vacation adventure awaits, but you have to take the first step. Grab that calendar and start saving the dates.
Comment on this post!