---
Awesome Things To Do and See on Lake Fontana
Posted On Monday, April 12, 2021
---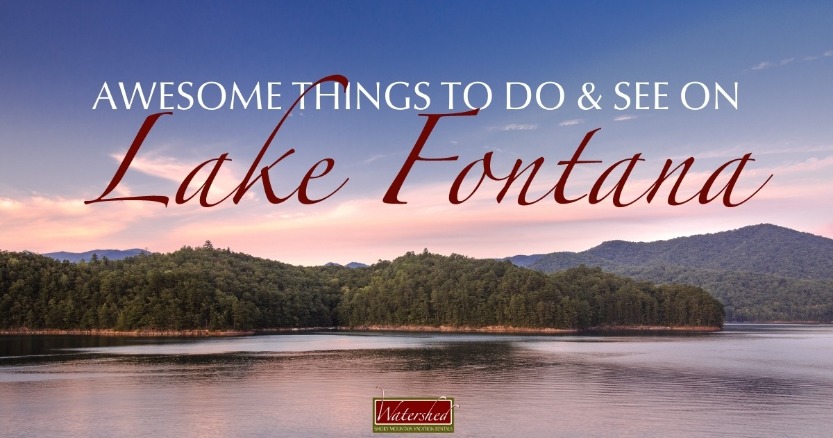 The Smoky Mountains (and the Bryson City area) are magical spots in North Carolina. The reality is there is so much to do and see that visitors are hard pressed to ever want to leave, and we can't blame them one bit. Of course, when you rent one of our luxury cabins you are staying in the heart of the Smoky Mountains. This week we feature one of the most popular and diverse attractions in the local area...Lake Fontana! Let's explore this beautiful lake and some of the most popular things you can do while spending a day or week on the lake.
A little about Fontana Lake
Fontana Lake is located just outside of Bryson City, NC. This 10,230-acre finger lake is 31 miles long, 400 feet deep, and has 238 miles of shoreline. Fontana Lake is unique in many ways. The shoreline development has been kept to a minimum. More than 90 percent of the land around the lake is owned by either the National Park Service or the US Forest Service. Fontana's beautiful emerald green water beneath a backdrop of the Great Smoky Mountains makes it a one-of-a-kind sightseeing experience.

Take a tour of the dam
You may recognize the iconic dam that created Lake Fontana. This dam was featured in the adaptation of Bill Bryson's book "A Walk in the Woods".
The Fontana Dam Visitor Center is open to the public from 9 AM to 7 PM daily from May through November. But you can drive or walk across the dam all year for spectacular panoramic views. Make sure to bring your camera to snap a social media-worthy pic. It will make everyone in the family jealous!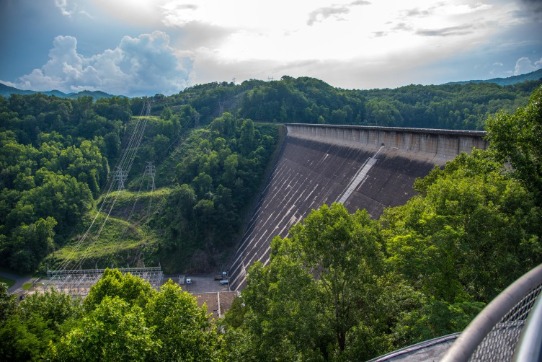 Visit the Marina
Tubing, water skiing, jet skiing, and pontoon boats are just some of the fun activities available at the Lake Fontana Marina. This is a wonderful place for those of us visiting with impatient teenagers who crave adventure and fun!


Take a guided cruise
One fun and easy way to see the lake is to take a guided cruise. There are several different types of guided tours. These include private tours, fishing tours and larger group tours. One thing is for certain – you will feel your stress melting away as you take in all the natural beauty of Lake Fontana.
Our favorite guide is the sunset cruise, we think you'll agree.
Looking for a great guide? Try the good folks at Fontana Guides.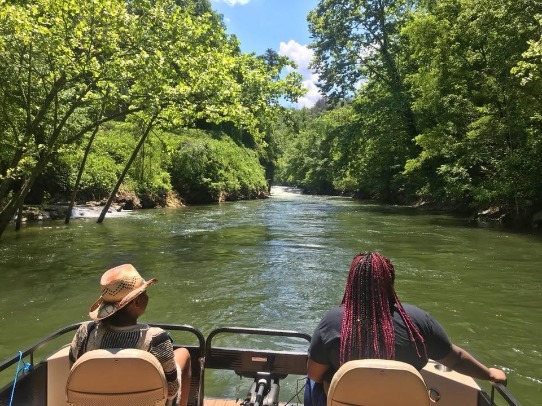 Swimming Lake Fontana
Swimming is a popular activity in Fontana Lake, and there are several public places you can stop along Highway 28 and swim. Just watch for the signs. These places generally have restroom facilities, boat access, and picnic tables as well. You can also park and swim near Fontana Dam, as there is ample parking and great picnic areas around the Dam itself. On any given day, you're bound to see lots of kids and adults jumping into and swimming in the cool emerald green waters of Fontana Lake. We saw plenty during our most recent visit.

Fish Lake Fontana
Ok, so the video says paddle, but we're going to talk about fishing for a minute. Lake Fontana is a paradise for fishermen. The Lake boasts all the species you have come to expect in Western North Carolina. It's especially known for world-class Bass fishing. Of course, whether you are casting a line or fly fishing, Lake Fontana won't disappoint.
Fishing can be done several ways. Of course, you can fish from shore, but the real action is out on the water. We recommend hiring a local guide to help you find the best honey holes. If you have your own boat you are welcome to use one of the boat ramps. Kayaks, canoes, and of course motor boats are all welcome on the lake. Don't forget to post a picture of your Smoky Mountains vacation catch. Tall tales are always welcome here in Bryson City.
If you are ready to visit the Smoky Mountains, now is the perfect time to book your vacation. We have an incredible line up of luxury cabins to choose from. All of our cabins are well equipped and loaded with all the amenities you've come to expect from the best luxury cabins in the Smoky Mountains. Of course, all of our homes are backed by our team of dedicated professionals who are here to ensure you have an incredible vacation experience.
Call Today 888-604-3075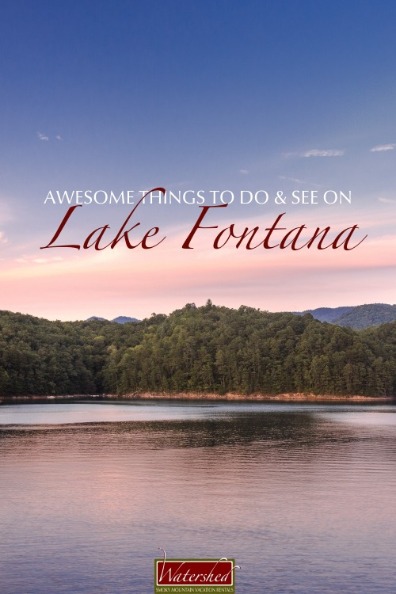 Book your luxury smoky mountain cabin today
Like and follow us on your favorite social media platforms.
Comment on this post!