---
8 Cool, Crisp Autumn Quotes to Get You Craving a Smoky Mountain Vacation
Posted On Monday, August 28, 2023
---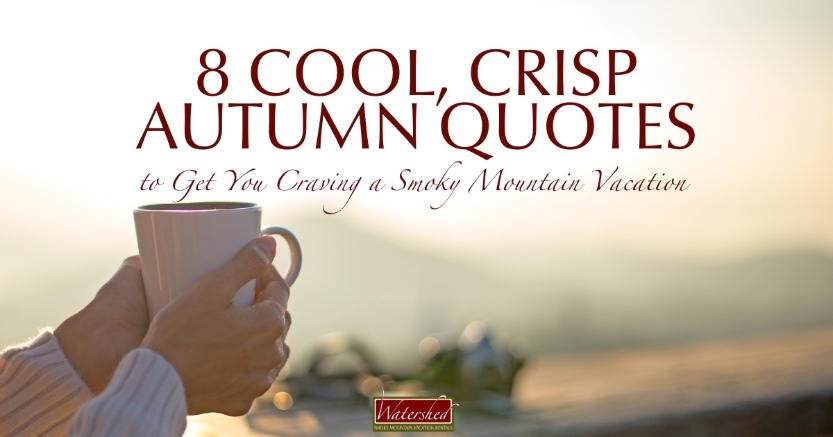 Autumn is on the horizon, and there is no better place to enjoy the turning of the season in all its glory than in Bryson City, NC—often referred to as the Gateway to the Smoky Mountains. Where better to spend your time enjoying a fall mountain vacation? We can't think of a better place to be! Soon the days will be crisp, cool, and utterly delightful while the leaves begin to reveal their brilliant color show. To get you even more into an autumn state-of-mind, here are a few of the best quotes to inspire you to book your Bryson City vacation this fall. Do you have a favorite fall quote? Share it with us in the comment section and we'll add it to our collection.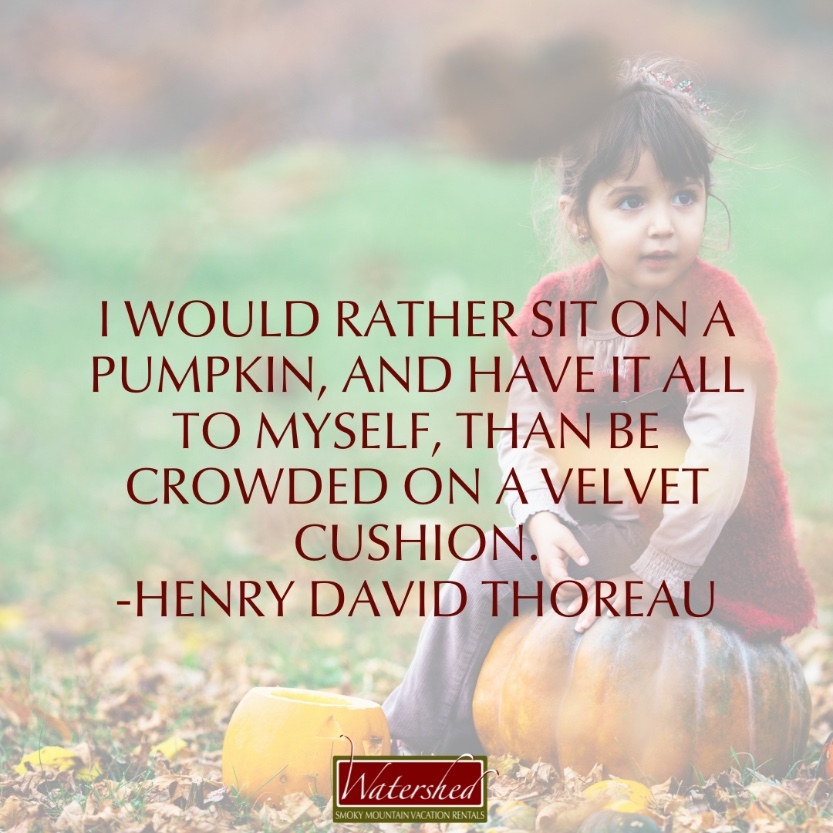 I would rather sit on a pumpkin, and have it all to myself, than be crowded on a velvet cushion. -Henry David Thoreau
If you prefer a field of pumpkins over a field of people, you can head on over to Darnell Farms during your Bryson City vacation. Not only do they have a pumpkin patch, but they offer tons of seasonal produce and farm fun with fall festivals, hayrides, haunted corn mazes, an apple fest and more family-friendly things to do this autumn.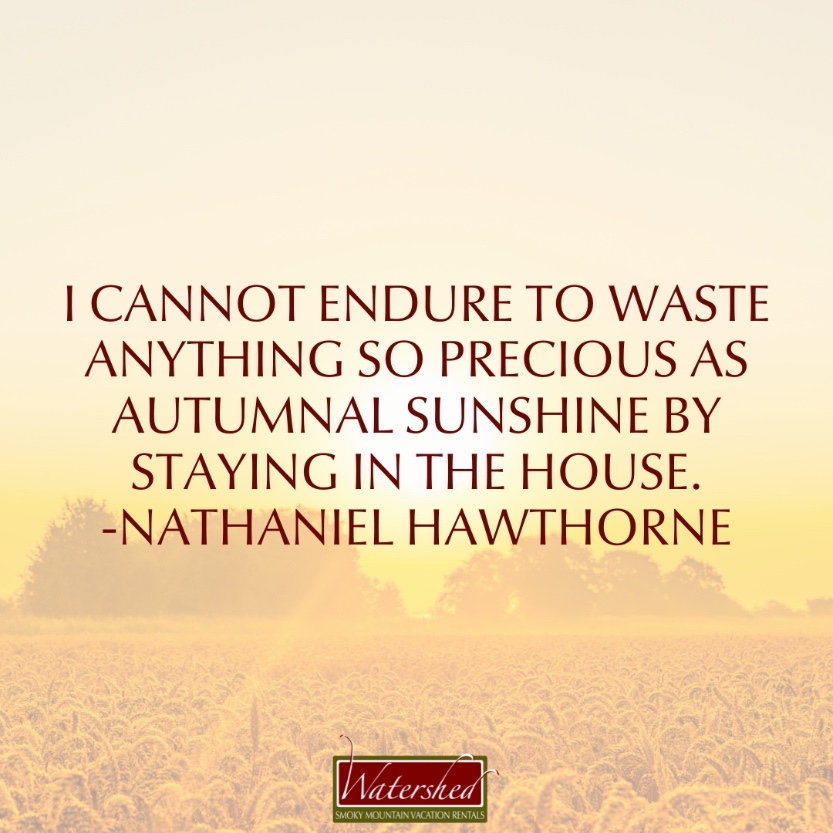 I cannot endure to waste anything so precious as autumnal sunshine by staying in the house. -Nathaniel Hawthorne
Get outside and explore more! Autumn is such a gorgeous time of year to feel the sunshine on your face and breathe in the fresh mountain air. How you do it is up to you, but just get out there and connect with nature. Check out our Bryson City Bucket List of adventures and our Top 10 list of outdoor activities to jumpstart your vacation planning itinerary.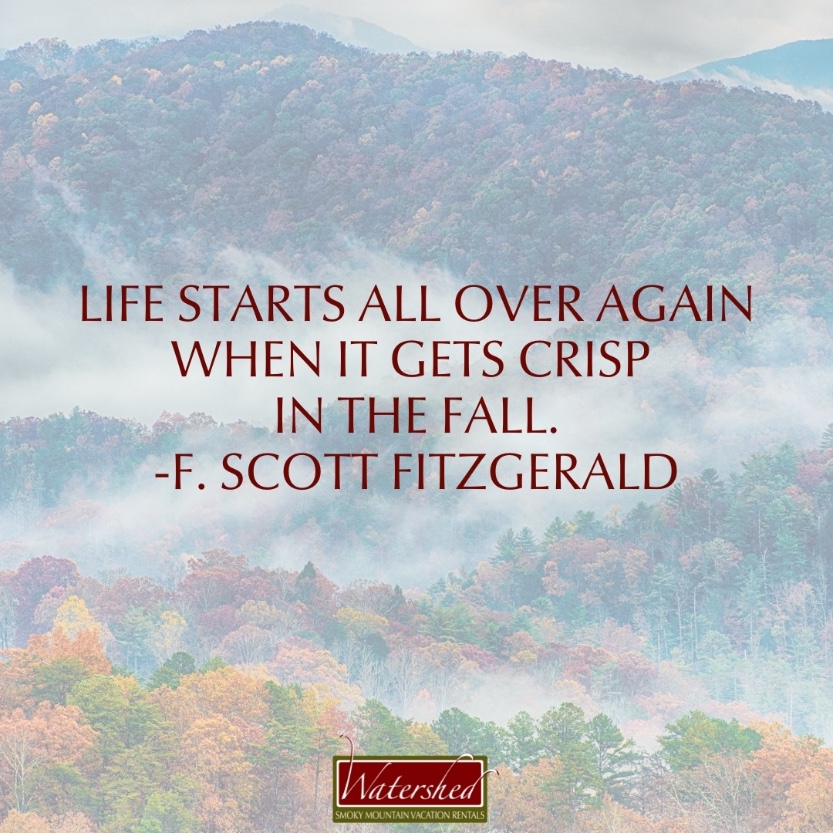 Life starts all over again when it gets crisp in the fall. -F. Scott Fitzgerald
Each season comes with its own sense of renewal, but none such as invigorating as the start of the fall season. Give yourself and your family an autumn reset with a Smoky Mountain vacation that puts you in the heart of it all. We recommend considering a Bryson City cabin with exceptional views to truly get a glimpse of the exceptional scenery this time of year.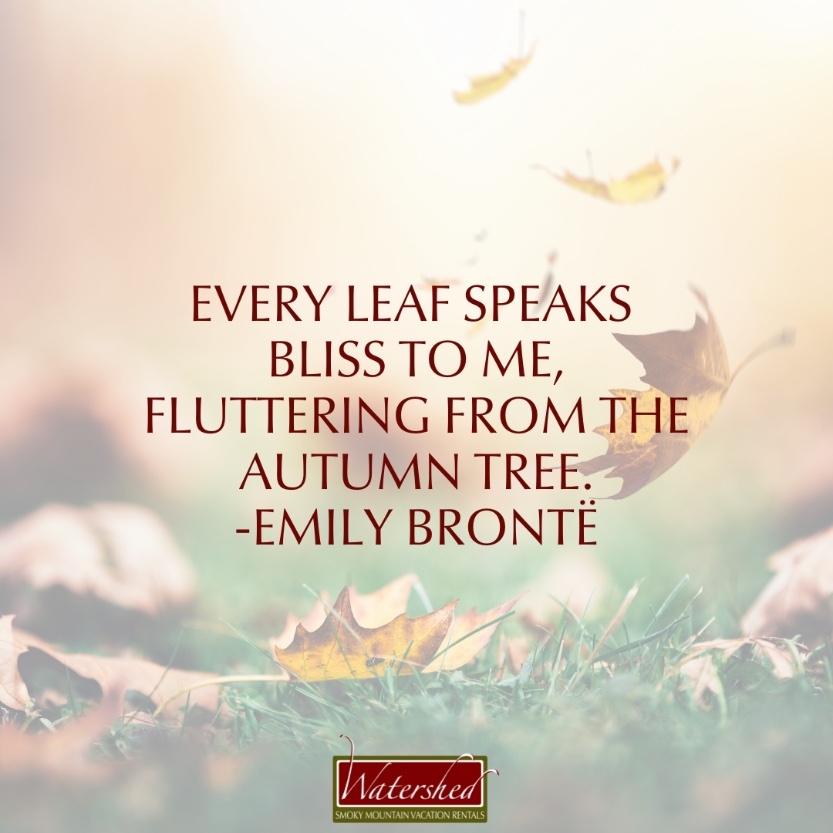 Every leaf speaks bliss to me, fluttering from the autumn tree. -Emily Brontë
Bliss, indeed! Whether you hike the trails, find a waterfall, go fly-fishing on the river, or take a stroll in downtown Bryson City, there's beauty to behold all around you. Be sure to take a few mindful moments to appreciate all that surrounds you before the moments quickly become memories. Read up on more reasons to fall in love with Bryson City here.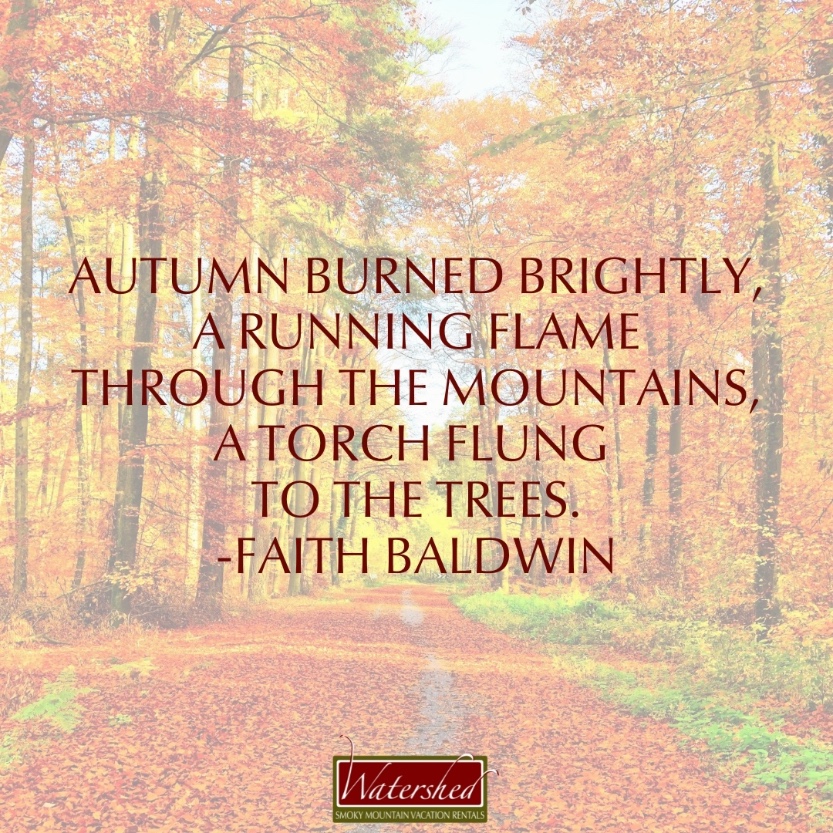 Autumn burned brightly, a running flame through the mountains, a torch flung to the trees. -Faith Baldwin
See the torch-flung tree colors for yourself! The turning of the leaves and the color show is a sight to behold—and one of the highlights of the season. If you're wondering where to view the best fall foliage, read our previous blog post on that topic. Rest assured, whenever you step outside your Bryson Cabin rental during the fall months, you're going to see the color show.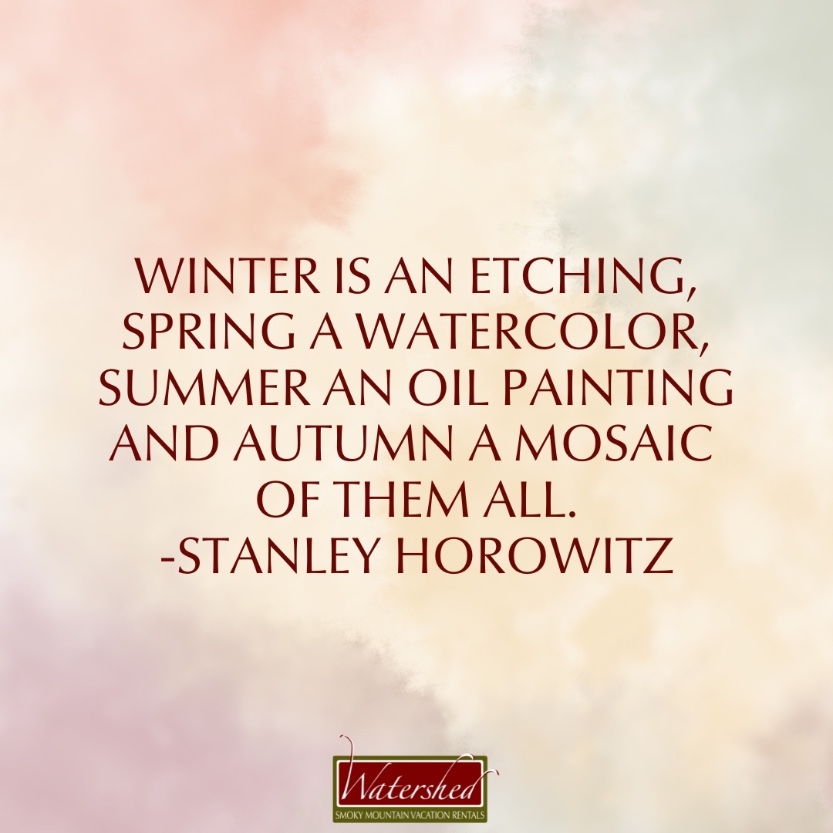 Winter is an etching, spring a watercolor, summer an oil painting and autumn a mosaic of them all. -Stanley Horowitz
Autumn is the epitome of nature's artistry. Although each and every season in Western North Carolina has its highlights, fall is one of the most beautiful of them all. It is a mosaic of mountain majesty, cozy weather, perfect conditions for outdoor adventures, and an absolutely ideal time to vacation here. Don't take our word for it, but do come and decide for yourself.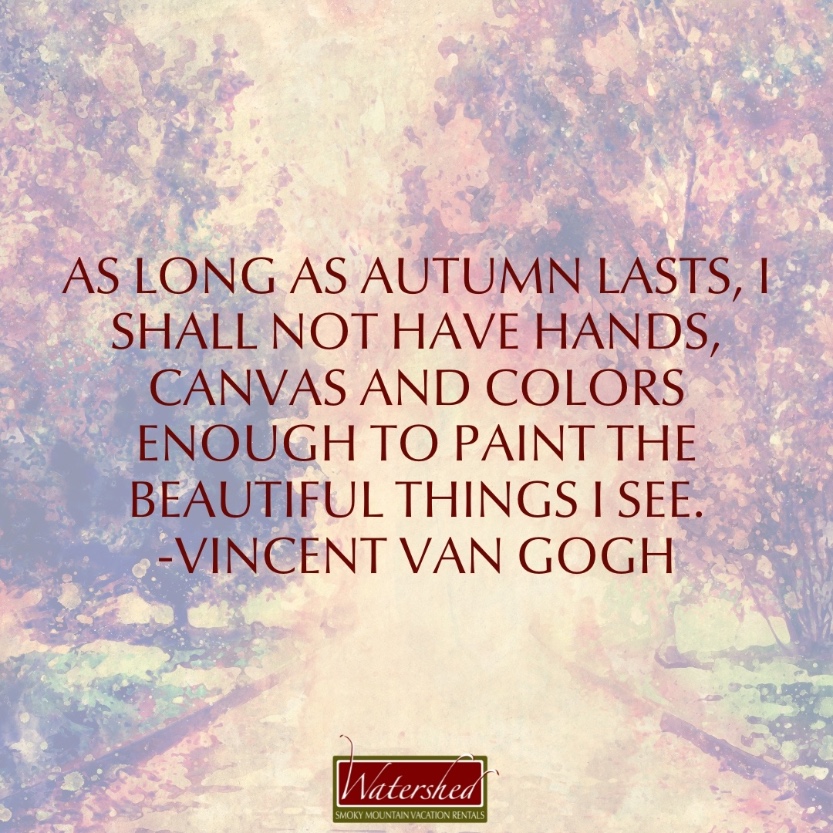 As long as autumn lasts, I shall not have hands, canvas and colors enough to paint the beautiful things I see. -Vincent Van Gogh
These are wise words from one of the world's greatest artists. Van Gogh knew a thing or two about artful beauty, so we agree that the unending bounty of beautiful sights during the fall season is a fact. We look forward to it each and ever year here, and you will too! Read more on why it's the perfect time to plan a fall retreat to the Smokies.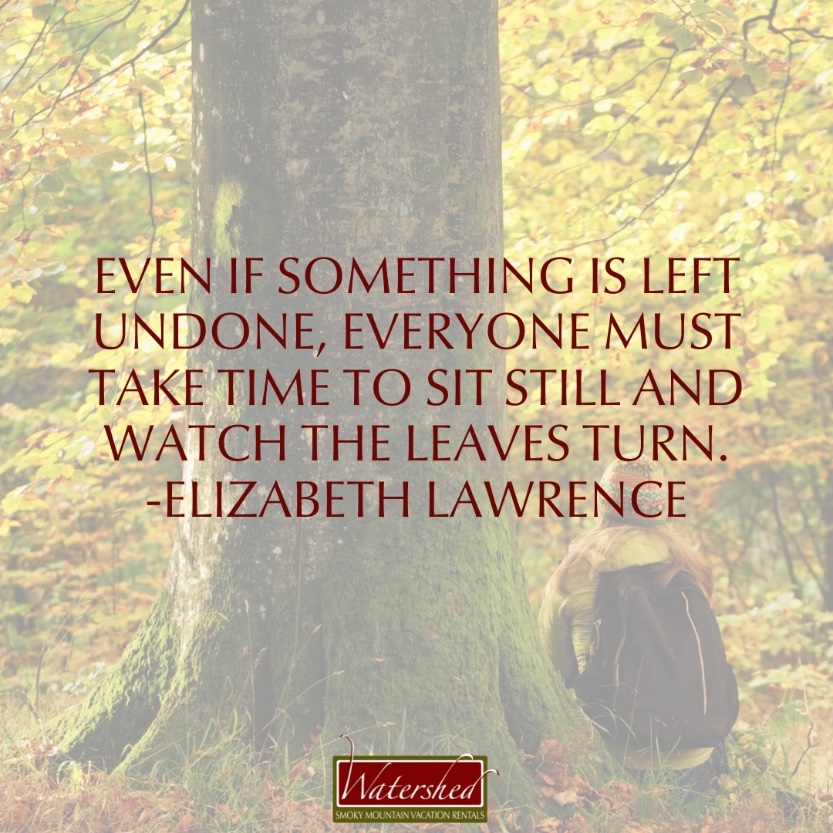 Even if something is left undone, everyone must take time to sit still and watch the leaves turn. -Elizabeth Lawrence
We'll leave you with these words of wisdom. It's okay to step away from the day to day and give yourself time to reset and refocus. In fact, that's a healthy thing to do. Vacations are meant to be taken and time away to be enjoyed. Maybe now is the time for you to do just that?
Share these quotes with the autumn lovers in your life!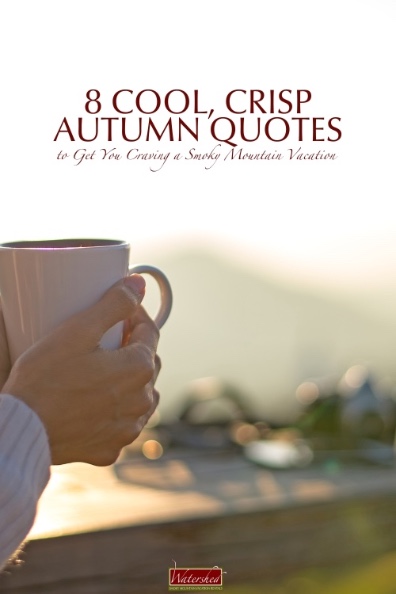 Comment on this post!