---
Top 10 Outdoor Things To Do During Your Bryson City, NC Vacation
Posted On Monday, April 25, 2022
---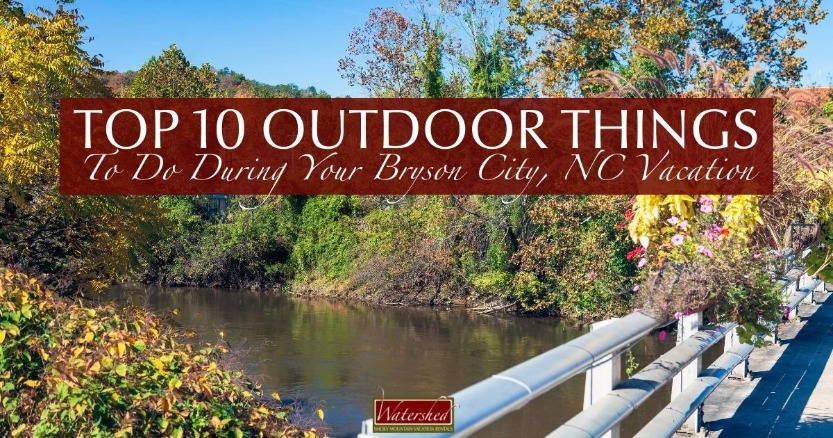 A good dose of the great outdoors is one of the many reasons visitors and vacationers love a Smoky Mountain getaway. You are so close to so many things when you choose a Bryson City, NC cabin rental—especially when it comes to getting outside and getting active.
Don't forget that when you stay with Watershed Cabins you also get complimentary access to Xplorie which offers a free excursion each day of your vacation. Some of the activities listed below are included, so be sure to take advantage of this Watershed Cabins perk.
Without further ado, here are the top 10 outdoor things to do during your Bryson City vacation. How many have you already done? Let us know in the comment section!

All you need to do is park and get off the many, many roads of this large park and see that blue mountain haze that is part of this beautiful mythological place.
-Ken Burns
1. Visiting the Great Smoky Mountains National Park in North Carolina
The Great Smoky Mountains National Park's half-million acres are equally divided between Tennessee and North Carolina. The North Carolina side offers many quiet and relaxing ways to immerse yourself in nature that, in our humble opinion, far exceed the more commercialized, touristy locations of Gatlinburg and Pigeon Forge. We'll let you decide for yourself. Award-winning filmmaker Ken Burns says that one of the best things about the Great Smoky Mountains National Park is its intimacy—and he knows a little something about National Parks. (Have you watched his docuseries? Highly recommend!)
2. Hiking the Trails
Did you know that 40 percent of the Great Smoky Mountains National Park is in Swain County? Yes! That makes many of the National Park trails really easy to access from Bryson City. You'll find a number of hiking trails in the Deep Creek area of the park, just two miles north of town. There are also some on Lakeview Drive (also known as the "Road to Nowhere") six miles north of Bryson City. Read more about hiking trails near your Bryson City cabin here.
3. Mountain Biking
Western North Carolina has plenty of opportunities for cycling, whether it's on the road or off. As long as you're okay with the word "flat" not being part of your biking your experience, you'll be good to go! Bryson City is centrally located near sixteen riding trails in the mountains that range from beginner to expert level. There truly is something for everyone of every level, including bike rental outfitters who can get you ready to ride. Check out some of the most popular local bike trails here.
4. Fishing & Fly Fishing
The Smoky Mountains of North Carolina offer a diverse and abundant fishing habitat with bountiful rivers, streams and creeks in addition to the cold, deep waters of Fontana Lake. Trout are common in Swain County's four rivers—the Nantahala, Oconaluftee, Tuckasegee and Little Tennessee. Two of those, the Tuck and the Little T, offer much more including bass, crappie, walleye, and muskie.The crown jewel of fishing is Fontana Lake. Record size muskie and walleye have been pulled from its 400-foot depths. Many believe it's one of the best smallmouth bass fishing lakes in the country. Read more about fishing during your Bryson City vacation here.
5. Mountaintop Zip-Lining
The
Nantahala Outdoor Center
(NOC) is located right here in Bryson City, NC. The center is rated "One of the Best Outfitters on Earth" by National Geographic Adventure, and NOC has been the leader in the rafting industry since 1972. However, what we love are the family-friendly adventures like mountaintop zip-lining and other aerial adventures that you can enjoy here. Enjoy a bird's eye view of the Smoky Mountains and have great fun while doing it. You can read more about zip-lining near your Bryson City cabin rental
here
.
6. Whitewater Rafting on the Nantahala River
Everyone should experience a little rafting fun on the river! You can combine your above-mentioned zip-line adventure with a whitewater rafting excursion through this NOC package or check out Carolina Outfitters for your next on-the-water adventure. They have everything you need to get out there and ride the currents.
7. Waterfall Chasing
There may be a song entitled "Don't Go Chasing Waterfalls"... but we think that's very bad advice. You should absolutely go chasing waterfalls during your Smoky Mountain vacation. If you're wondering where you can find the best waterfalls in Western North Carolina, then read this. In that same post we give you a few fun ways to spend your day by the rushing waters. You can also opt for a Waterfalls Guided Hiking Tour with Carolina Outfitters.
8. Tubing in the Deep Creek Recreation Area
Tubing usually runs from Memorial Day weekend through Labor Day in the Great Smoky Mountains, but depending on the weather, it can start early and continue on into September. Tube rental companies are located on West Deep Creek Road, near the National Park entrance. The original black truck tubes are a thing of the past, since all tubing vendors now have light-weight inflatables with seats, which can be rented for the day. You can enjoy lazy tubing, whitewater tubing, and the swimming hole located here—so it's super easy to make a day of it. You can read more about tubing in Deep Creek here.
9. Watersports on Fontana Lake
We've already mentioned the excellent fishing to be found on Fontana Lake, but don't forget about the other watersports available to you as well. You can rent pontoon boats, paddleboards, kayaks, canoes, and jet skis (just to name a few) from various marinas and outfitters located on or near the lake. However you want to spend your day on the water, there is a rental for you. You can read more about awesome things to do and see on Fontana Lake here.
10. Exploring Outside Your Bryson City Cabin Rental
This may seem like a no-brainer, but be sure you take a little time to explore what's right outside the door of your cabin rental. Watershed Cabin rentals are scenically located near rushing streams, right on Fontana Lake, near waterfalls, or on acres of mountainous landscape. No matter where you choose to be there is always, always somewhere beautiful nearby to discover and explore. Take the next step and plan your Bryson City vacation today.
What's your favorite bryson city outdoor adventure?
We want to know!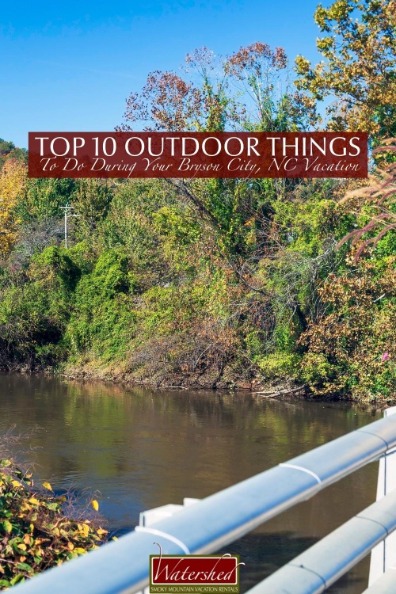 Comment on this post!