---
Top 5 Reasons Why Foodies Love Bryson City NC
Posted On Friday, September 8, 2023
---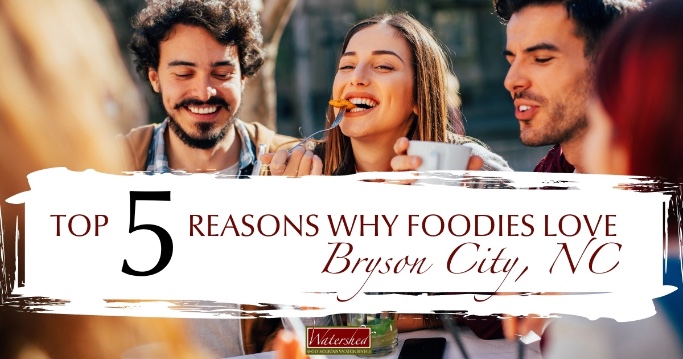 What can we say about the food scene in Bryson City, NC? A lot! You can find a little bit of everything here in this small town that serves up big flavor. Whether it's homestyle Southern comfort food, farm-to-table dishes, famous NC barbecue, craft breweries with pub-style fare, fresh homemade baked goods and other sweet treats—these are just a few of the many culinary choices available to you during your Bryson City vacation in the Great Smoky Mountains. It's hard to narrow it down to just five, but here are the top reasons why food lovers of all kinds love to eat and vacation here.
1. For the Coffee Shops & Bakeries
The ideal vacation day starts with a great cup of coffee and a freshly baked homemade treat. Our Bryson City coffee shops and bakeries are sure to please, while jumpstarting your day in the best possible way. You have plenty of options here including the Bryson City Bakery, La Dolce Vita Bakery, Cardinal Coffee Shop, and Mountain Perks Espresso Bar. You can read more about these local favorites here.
2. For the Food Trucks
Food trucks are highlight of a Bryson City vacation. Paired with your favorite craft brew or just enjoyed on their own, the local food trucks offer a variety of fare in varying locations around town. Bread Heads Food Truckin', Big Laurel Food Truck, and Cactus Kitchen can often be found parked outside of Bryson City Outdoors, while The Rice Wagon is usually parked at Mountain Layers Brewing. Don't forget to stop by Slow Joe's Donut Bus parked riverside on the Nantahala for a sweet treat. Try one or try them all!
3. For the Casual & Fine Dining
You won't go hungry during your Bryson City, NC vacation—that is a fact. From casual dining that offers burgers, pizzas, sandwiches, and southern bbq to fine dining for the sophisticated palate where one-of-a-kind dining experiences await—you can find something for everyone during your time here. Visit the Watershed Cabins Attractions page to peruse your restaurant and dining options.
4. For the Ice Cream & Desserts
There are so many delightful ways to satisfy your sweet tooth in Bryson City. Nibble on homemade fudge, indulge in your favorite flavor of ice cream, visit the candy shop, or grab a seat at the counter to enjoy a nostalgic visit back in time to a 50s-style soda shop. Read up on the local flavors at these ice cream shops and find other sweet treats here.
5. For the Breweries, Pubs & Wineries
Bryson City is well known for its craft beer, breweries, brew pubs along with wine offerings found at the Deep Creek Winery and the Bryson City Wine Market. These locally owned and operated establishments offer refreshing adult beverages paired with the beautiful backdrop of the Smoky Mountain scenery. What's not to love? Whether you try a beer tour, visit a brewery, stop at a pub, or sip a glass of wine—you're sure to enjoy the relaxed vibe and unique drink offerings found around town.
where's your favorite place to Dine in bryson city and why?
Let us know in the comments below!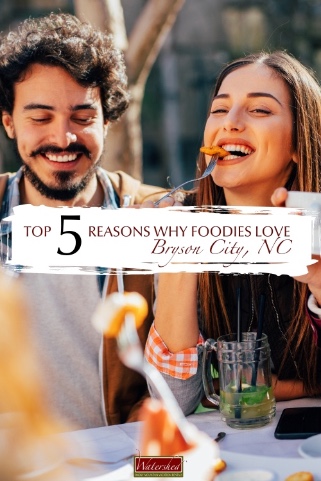 Comment on this post!