---
Where to Go for the Best Ice Cream During Your Bryson City, NC Vacation
Posted On Monday, July 10, 2023
---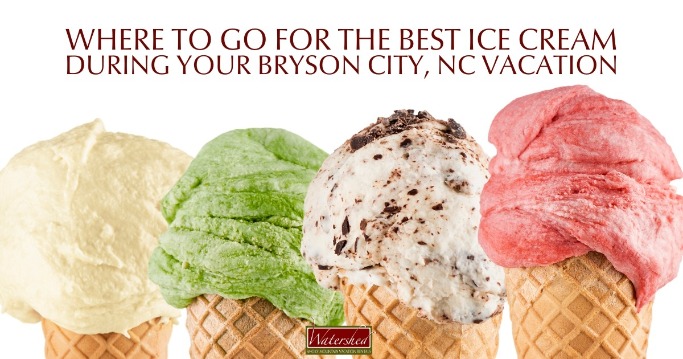 Summer vacations in the mountains and ice cream go hand-in-hand. While you and your family are here in the Smokies, be sure to stop by these Bryson City ice cream shops that are sure to please. It's the perfect way to cool off on a hot summer day. There's a little something for everyone and each place has its own unique flavor, literally, so try one or try them all. Be sure to let us know which one is your favorite in the comment selection below this blog post. Enjoy!
Boxcar Cafe & Cones
📍 26 Fry St., Bryson City, NC | (828) 488-5379

Boxcar Cafe & Cones is located right outside the train station. Whether you are getting off the train or walking around downtown, stop in for a bite to eat and a delicious sweet, cold treat. The ice cream parlor is filled with ice cream and handspun milkshakes to help you cool off on a hot day. They offer indoor and outdoor seating areas. Pets are allowed in the outdoor seating area, so you are welcome to bring the whole family.
The Chocolate Shoppe
📍134 Everett St., Bryson City, NC | (828) 488-5379

Where better to experience the aura of the old fashion confectionery shop featuring delectable creations such as chocolates, fudge, caramel corn, brittles, caramel apples, specialty popcorn and premium, hand dipped ice cream than right here. Confections are handmade in our Shoppe with several recipes dating back 75 years. Stop, try a sample, and enjoy the homey atmosphere that is the Chocolate Shoppe.
Heavenly Fudge
📍225 C Everett St., Bryson City, NC | (828) 488-4447

Not only will you find delicious homemade fudge here, but Heavenly Fudge also has a wide selection of ice cream and homemade waffle cones that are made to order and served warm. Yum! They also are serving up waffle cone banana splits, sundaes, and milkshakes.
Moon Goddess Burgers & Shakes
📍1881 W Deep Creek Rd, Bryson City, NC

This take-out restaurant is located at the entrance to Deep Creek in Bryson City. You'll find burgers, chicken, and a kids menu plus milkshakes and ice cream soda floats. The Moon Pie milkshake is a must-try! They are only open seasonally during tubing season (roughly May - September).
Sara's Sweet Spot
📍14690 Hwy 19 W, Bryson City, NC | (828) 506-4178
What's better than sweets and cold ice cream next to a river? Not much! Enjoy a cone and sit by the river taking in the beauty of the Nantahala Gorge. Sara's Sweet Shop provides hand-scooped Hershey's Ice Cream, candy, local jellies, jams and salsas. Stop on by for some delicious treats at this riverside building and family owned/operated business.
Soda Pops Ice Cream Parlor
📍125 Everett St., Bryson City , NC | (828) 788-0013

Soda Pops was established in 2000 as a family business and is an authentic '40's and '50's ice cream parlor and old-fashioned soda fountain located in the heart of Bryson City, NC. They specialize in Coca-Cola memorabilia, nostalgia candies, plus shakes, malts, floats, and splits. The setting here will take you back in time as a blast from the past.
Where is your favorite ice cream shop in Bryson City?
We want to know!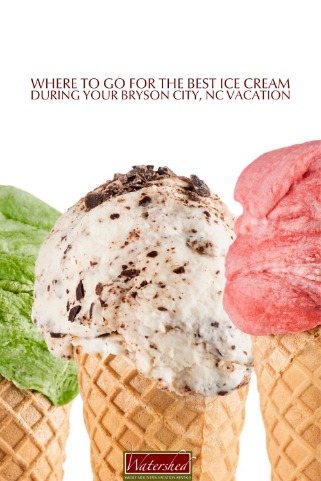 Comment on this post!