---
Self-Guided History Tour of Western North Carolina
Posted On Sunday, June 03, 2018
---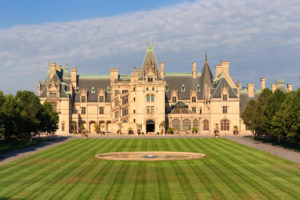 Take a trip back in time with a self-guided history tour of Bryson City and majestic western North Carolina. Visit the largest privately-owned house in the U.S., ride through the Nantahala Gorge on the Smoky Mountain Railroad, and visit the area's best museums. Choose between a variety of Bryson City cabin rentals through
Watershed Cabins
on your upcoming historic voyage into the Great Smoky Mountains. Take a break from the never-ending river and mountain adventure with a peaceful and engrossing day in historic North Carolina.
The Biltmore Estate
Though the
Biltmore Estate
is an hour east of many of our Bryson City cabin rentals, it's one of the premier tourist attractions in the Western Hemisphere and well worth the drive. The estate, which is five miles south of Asheville, is the largest privately-owned house in the U.S. At nearly 180,000 square feet, the Biltmore is a Châteauesque-style mansion built in the late 1800s. The majestic grounds and natural beauty of the southern Appalachian Mountains are equally as impressive as the interior of this timeless fortress. The estate offers over a dozen tours. Embark on a behind-the-scenes winery tour or a premium evening tour that includes a sunset viewing on the rooftop.
Great Smoky Mountains Railroad
Western North Carolina is rich with history, especially on the railroad. After the railroad finally reached Asheville in 1880, it became clear they needed to expand even further west. Bryson City became an ideal stop on the
Great Smoky Mountains Railroad
. By the turn of the 19th century, tourism was booming, and Bryson City grew from under 400 residents to nearly 2,000 in a 30-year span. A train ride on the Great Smoky is an absolute must for any history buff. Their half-day
Nantahala Gorge Excursion
offers magnificent mountain views and is a significantly popular trip in autumn. The
Moonshine Experience
is a beer lover's dream as you'll learn about bootlegging and home brewing. Don't forget to stop by the
Smoky Mountain Trains Museum
after your ride is over.
Swain County Heritage Museum
Swain County is a fascinating slice of western North Carolina. The county only has one town (Bryson City), seven unincorporated communities, and three townships, yet it has 541 square miles of gorgeous Smoky Mountain scenery. The county also shares the city of Cherokee with Jackson County. The
Swain County Heritage Museum
is a worthwhile educational stop in Bryson City. The museum is a fantastic compilation of photographs, tools, houses, lanterns, barrels, bottles, jewelry, and much more. We recommend starting your self-guided western North Carolina history tour at this free museum. Remember to slip over to Cherokee and spend an afternoon at the
Oconaluftee Indian Village
, a fascinating non-profit with guided tours, demonstrations, and living history.
Bryson City Cabin Rentals
Consider taking a short, scenic mountain drive to
Fontana Dam
to witness the largest dam east of the Rocky Mountains. The
Wheels Through Time Museum
, east of Cherokee, is a motorcyclist's dream.
Watershed Cabins
has western North Carolina's premier cabin rentals, all within a short drive of the area's best historic museums and monuments!
Comment on this post!