---
Everything You Need to Know About Elk in the Great Smoky Mountains
Posted On Monday, May 9, 2022
---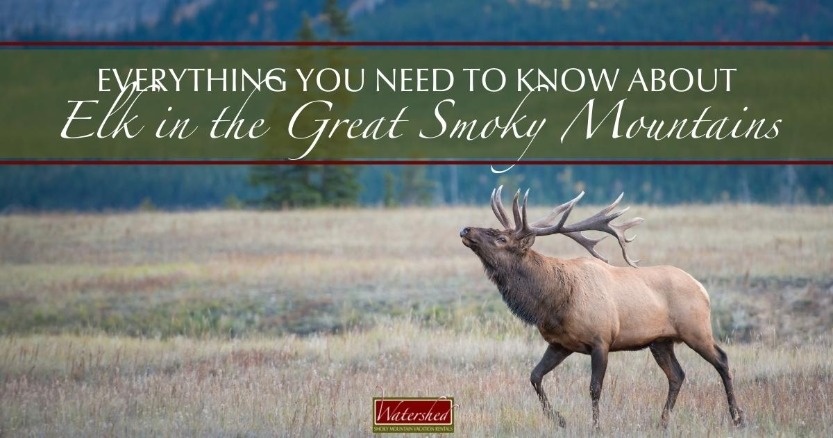 Elk viewing is a unique opportunity to see the natural side of life in the Great Smoky Mountains during your Bryson City, NC vacation. You can see herds roaming and grazing nearby if you know where to go for the best elk spotting. The good news is that many of those places are not far from your Bryson City cabin. Here's everything you need to know about elk for your upcoming vacation in the Smoky Mountains of North Carolina. We hope you get to see them for yourself!
ELK IN BRYSON CITY NC
Elk sometimes make their appearance in downtown Bryson City. Check out these local elk spottings that don't happen every day, but they certainly do happen. Here's photo evidence!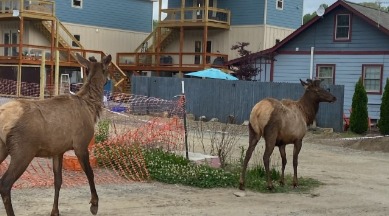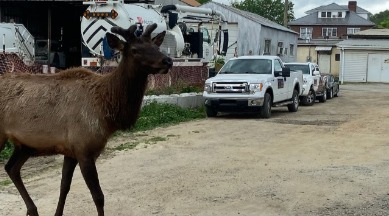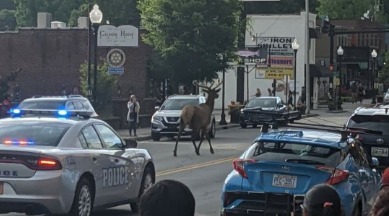 FAST FACTS ABOUT ELK
Check out these fast facts and get to know these magnificent creatures a little better. They are truly a beautiful sight to behold. Here are a few things you may not know about elk.
Adult male elk are known as "bulls" and weigh an average of 600-700 pounds.
Female elk are called "cows" and average 500 pounds.
Adults are 7-10 feet long from nose to tail and stand 4.5-5 feet tall at the shoulder.
Adult males have antlers that may reach a width of five feet.
Elk can live as long as 15 years.
Elk have an acute sense of smell and excellent eyesight to protect them from predators.
Coyotes, bobcats, and black bears may kill young, sick, or injured elk, but adult elk are generally safe from predators in the park.
Elk are vegetarian and eat grasses, forbs, and acorns, as well as the bark, leaves, and buds from shrubs and trees.
Cows usually give birth to only one calf per year.
Newborns weigh about 35 pounds and can stand within minutes of birth and calf.
Females are ready to breed in the second autumn of their lives.
In early spring most elk shed their antlers and immediately begin growing new ones.
The antlers, which are rich in calcium, are quickly eaten by rodents and other animals.
It is illegal to remove antlers from the national park.
In late spring elk shed their winter coats and start growing sleek, copper-colored, one-layer summer coats.
Most calves are born in early June.
During the hot summer months, male elk roll in mud wallows to keep cool and avoid insect pests.
By August, elk antlers are full grown and have shed their "velvet."
During the fall breeding season, known as "rut", male elk make their legendary bugling calls to challenge other bulls and attract cows.
Large bulls use their antlers to intimidate and spar with other males. Most encounters are ritualistic and involve little physical contact.
During the rut in September and early October, dominant bulls gather and breed with harems of up to 20 cows.
In winter elk wear a two-layer coat during the colder months. Long guard hairs on the top repel water and a soft, wooly underfur keeps them warm.
Elk may move from the high country to valleys to feed.
*Source: National Park Service
FAQS ABOUT ELK IN THE NC SMOKY MTNS
Here are a few of the most frequently asked questions about elk viewing in the NC Smoky Mountains and near your Bryson City cabin rental.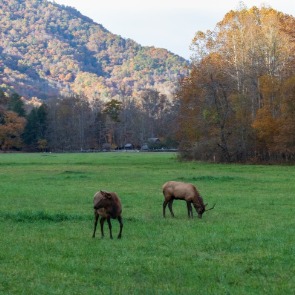 How long have the elk roamed the Smoky Mountains?
Elk once roamed the southern Appalachian mountains but were eliminated by over-hunting and loss of habitat. The NPS states that the last elk in North Carolina was believed to have been killed in the late 1700s and in the mid-1800s in Tennessee. By 1900, the elk population dropped to the point of concern that the species was headed for extinction. Elk were reintroduced to the Smoky Mountains National Park in 2001 in the remote Cataloochee area of the park. A large portion of the herd still resides there today. Cataloochee is north of Waynesville, a 1.5-hour drive from your Bryson City cabin rental.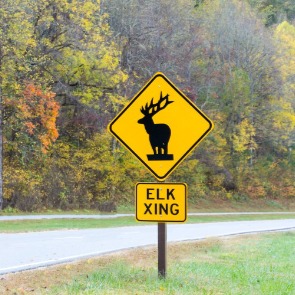 Where can I go to see herds of elk near Bryson City, NC?
According to the website GreatSmokies.com, elk can be also spotted in nearby Cherokee, NC grazing in the fields next to the Oconaluftee Visitor Center of the Great Smoky Mountains National Park or in the fields about 1 mile up US 441 from the Visitor Center. Occasionally when walking the Oconaluftee River Trail, elk can be spotted in the water and on the trail, especially in fall. Elk have roamed throughout Cherokee, including down the street and the Oconaluftee River and seen in other meadows on Newfound Gap Road and Big Cove Road.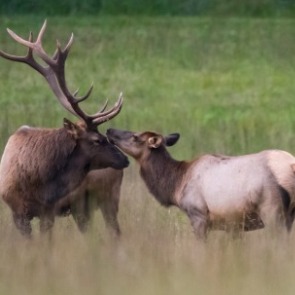 When are the best times of the day and year to spot elk?
According to the National Park Service website, your best chances of seeing elk are early morning or late evening. They are often most active on cloudy summer days and before or after a storm. In spring, summer and fall the best time to spot elk with the males is in the early morning or late afternoon. In winter only females and calves may be seen in the valleys in the late afternoon. The animals are not frightened by humans and can be observed grazing in the low-lying fields almost any afternoon throughout the year.
QUICK TIPS ABOUT VIEWING ELK SAFELY
Safety first! As with any wild animal, you want to keep a safe viewing distance. Here are a few of the National Park's rules that you need to know before going.
It's park law that willfully approaching within 50 yards (150 feet), or any distance that disturbs or displaces elk, is illegal in the Great Smoky Mountains National Park and carries a hefty fine.
Do not enter fields to view elk—remain by the roadside and use binoculars, telephoto lens, or a spotting scope to view the animals.
The use of spotlights, elk bugles, and other wildlife calls are illegal in the national park.
It is also illegal to remove elk antlers or other elk parts from the park.
Never feed elk or other wildlife or bait them in for closer observation.
Feeding park wildlife is strictly forbidden by law and almost always leads to the animal's demise. It also increases danger to other park visitors.
Here are a few more quick safety tips for you before heading out on your elk spotting adventure!
have you seen any elk during your bryson city vacation?
We want to know!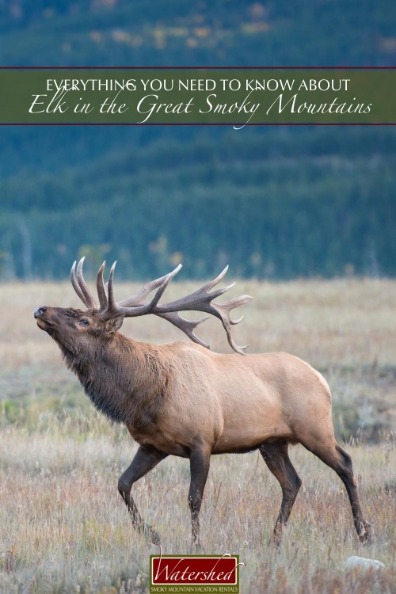 Comment on this post!