---
All Aboard the Holiday Polar Express Train Rides at the Bryson City Depot
Posted On Monday, November 28, 2022
---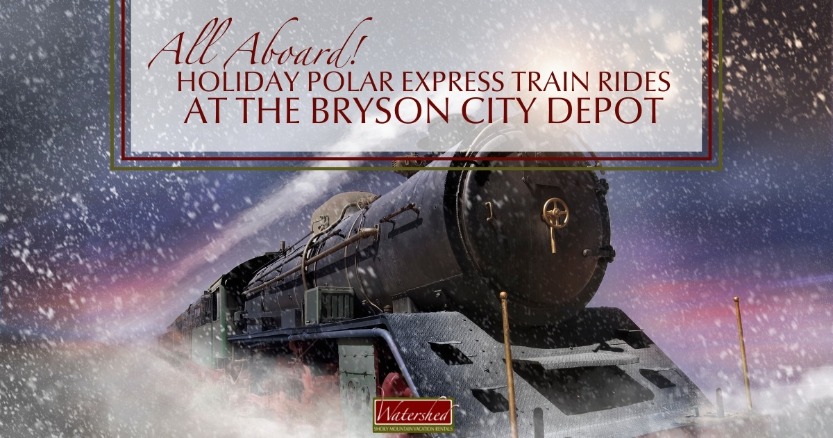 'Tis the season for a memorable train ride your kids won't forget! The Polar Express is part of the Great Smoky Mountains Railroad and is now boarding! It's a great holiday experience for the kids and kids-at-heart. We all know and love the classic children's book, but this experience takes it to the next level by bringing the story to life. Plan your Bryson City holiday vacation and put this special event on your Smoky Mountain seasonal to-do list. Then go ahead and make it your family tradition for years to come. Here's what you need to know. All aboard!
1. The train depot is not far from your Bryson City cabin.
Whichever Watershed cabin rental you choose, you're never far from the best local attractions and things to do in the NC Smoky Mountains, including the Bryson City Train Depot in the heart of downtown.
2. The Polar Express is only a seasonal event, so plan ahead.
If you are planning to add this experience to your Bryson City vacation, just remember that Polar Express tickets are only available in the months of November and December, so it's best to plan ahead and book your cabin rental during these months.
3. Polar Express tickets sell out quickly, buy in advance.
You can purchase your Polar Express tickets online or call the reservations department at (800) 872-4681. It's not recommended that you wait to purchase your tickets on the day of the ride, since a majority of dates and/or times are sold out by then. No matter how you purchase tickets, they'll be waiting at Will Call. Ticket prices vary by class of service. All departures are from the Bryson City Depot located at 45 Mitchell Street Bryson City, NC 28713. Plan to be there one hour before your departure.
4. Find answers to frequently asked questions.
You can find answers to many of your Polar Express questions on the event website. Take a look at the Class Comparison ticket chart and see the differences among each kind of ticket and what it includes. You'll find other helpful information, too. Be sure to scroll all the way down to the bottom of the page (below the calendar) to read up on everything you need to know. If you still have unanswered questions, call the reservations department for more information.
5. Watch this Polar Express video for a sneak peek!
This magical experience includes a 1¼ hour round-trip passenger excursion departs from the Bryson City depot for a journey through the quiet wilderness for a special visit at the North Pole. Set to the sounds of the motion picture soundtrack, guests on board enjoy warm cocoa and a treat while listening and reading along with the magical story. The train arrives at the North Pole to find Santa Claus waiting. Santa then boards, greeting each child and presenting them with a special gift of a sleigh bell (just like in the story). Christmas carols are sung on the return back to the Bryson City Depot.
Watch this video for a short glimpse of the magic!
Comment on this post!