---
How to Create a Modern Rustic Cabin Look
Posted On Monday, November 9, 2020
---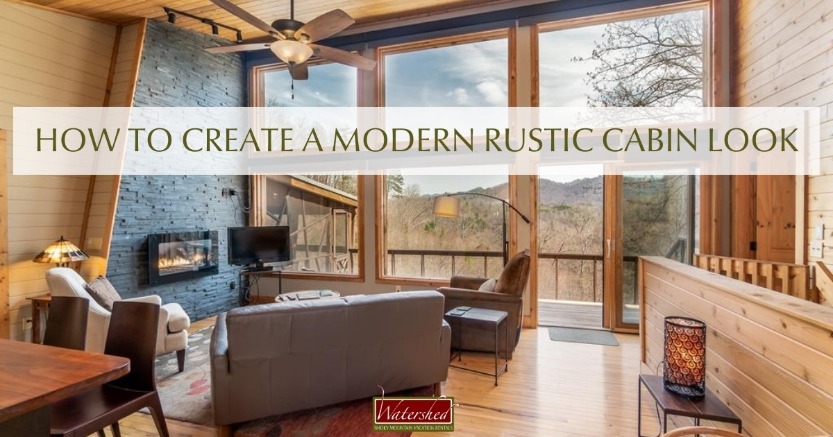 There is something about a cabin that is incredibly warm and welcoming. Maybe it's all the richness of the wood, or the inviting stone fireplace. Maybe you just enjoy the sense of seclusion that a cabin offers. Cabins offer us an escape and the ability to relax, detached from the stresses of daily life. No matter the reason or which emotions a cabin creates within you, one thing is for sure – a rustic cabin is a wonderful place to be. We should know. Here in Bryson City, we have a huge selection of luxury cabins. This week on the blog we have all the little decorating and design tricks you need to create a rustic cabin look, no matter where you are.
Look to the sky
Ok, ok, not exactly, but you do want to consider the ceiling design as it will dramatically change the feel of a room.
As you can see in the picture, this cabin has high, dramatic ceilings in a smaller room. This can add a sense of height and depth to the room. However, it can overwhelm the space in a larger room, causing it to feel large and cold. The exact opposite effect you might want when trying to create a cozy feeling. Think about using a traditional flat ceiling to give your cabin a warm and traditional rustic feeling. For a more modern take on the cabin, you'll want to have a more dramatic ceiling. As we will see below, choosing the right materials also makes a huge difference in the look of the room.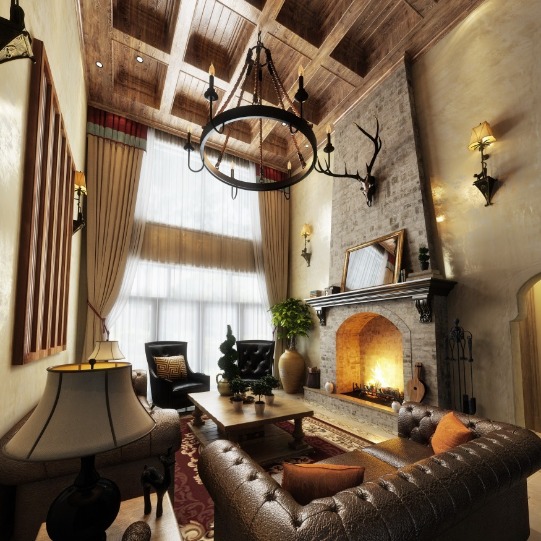 Use reclaimed materials
Use reclaimed and mixed materials to create a unique yet modern feel. Consider bringing in other interesting materials, such as a copper farm sink or hood vent. You might choose a modern stainless steel refrigerator with reclaimed wood cabinets. Or maybe a modern island design featuring vintage drawer pulls. Wood floors are the most common feature in a cabin, however, you can use reclaimed wood, slate, tile and even cork flooring for a more modern look. The key is to mix elements of the modern aesthetic with the charm of the cabin.
Consider your color choices
While you don't have to let go of those deep browns and darker colors, it is fair to say a more modern rustic cabin look would incorporate lighter shades. You want to create warmth combined with a lighter feeling to the cabin. We have many luxury cabins here in Bryson City that do exactly that. Need a little inspiration? Check out our inventory of luxury cabin rentals. From shiplap to modern materials like cement counter tops, your color choice will dramatically affect the tone of the home.
Create more natural light
Gone are the days of the old dark cabin with only one or two small windows. In a modern cabin, windows can be spacious, creative and placed perfectly to create the maximum amount of light.
Consider where you will be in the cabin. Do you have a favorite place to read and relax with your dog? Is there a view you prefer? Use larger windows and avoid the traditional six of six or four over four design.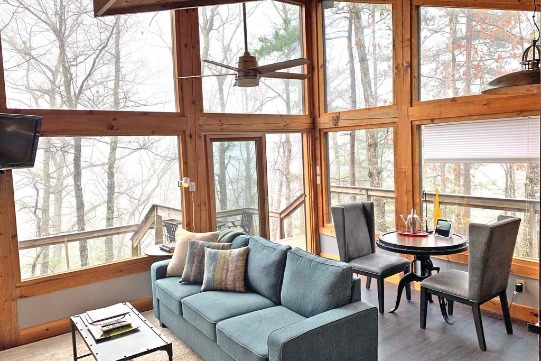 Tell your story
Cabins often have a theme and reflect your family's history and traditions. Even in a more modern cabin (one that features sleeker lines and spaces) you will still want to add accent pieces or memorabilia from your family. As we mentioned above, it is ok to mix materials. It is also ok to mix old with the new. Sure, you may have a sleek new kitchen or modern fireplace, but you can still put a pair of your great grandfather's antique wood skis on the wall or as a centerpiece over the mantel. Remember, you want to create a space that is reflective of you!
The fall colors are as vibrant and lovely as ever here in Bryson City (and the weather is perfect). If you haven't made plans to visit the Smoky Mountains this year, now is the time to do so. We have a great selection of luxury cabins. Give us a call today at 888-604-3075 to speak with one of our friendly and knowledgeable reservationists or click the button below to see our current inventory of homes.
Have you planned your Smoky Mountain vacation?
Like and follow us on your favorite social media.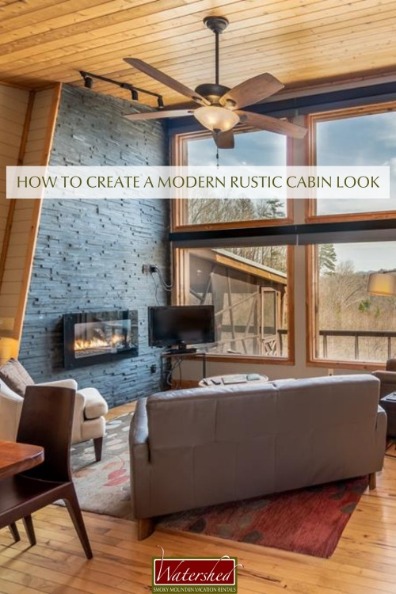 Comment on this post!