---
How to Have a Pet Friendly Smoky Mountain Vacation
Posted On Sunday, August 9, 2020
---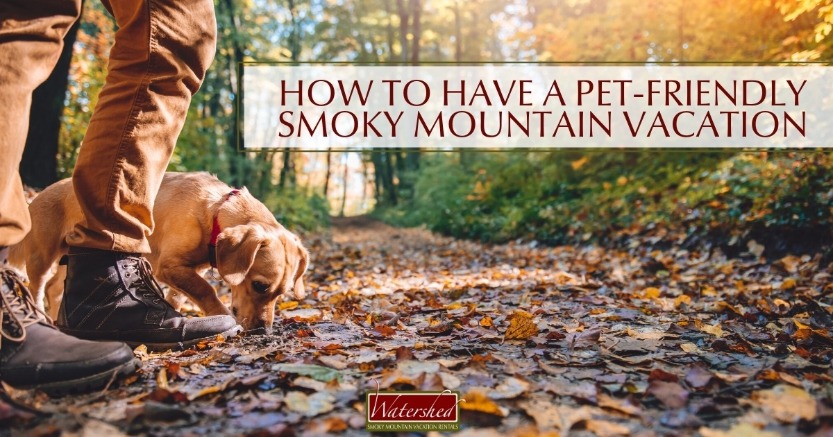 Everyone in the family loves a vacation... and no vacation is complete without your fur-baby. Luckily, Bryson City has lots of great luxury vacation rentals available for your family, including your favorite four-legged member. With tons of pet-friendly activities, you'll find Bryson City is the perfect place for your next family vacation. Whether a veteran or first timer traveling with your dog, we have everything you need to have a successful vacation with your pooch.

The Perfect Pet-Friendly Vacation Rental
With over 50 beautiful pet-friendly mountain rentals to choose from here at Watershed Luxury Log Home Rentals, we're sure to be able to find you the perfect place for your family and four-legged buddy.
Click here
to see all our pet-friendly rentals. While our web tools are great, if you do have any specific requirements for your dog, please be sure to give us a call. Our friendly staff is here to guide you to your perfect Smoky Mountain vacation and that includes making sure your dog has a great experience as well. We can be reached at
(888) 604-3075.
Traveling With Your dog
Getting to Bryson City is easy from many regional locations. With its central location, Bryson City is ideal for those traveling with dogs. Only a short drive from Raleigh or Charlotte, Knoxville or Norfolk, many folks will pile in the family SUV, load up the dog and head for the mountains. There are a few tips that you need to know when traveling with your beloved dog in the car. Follow these easy tips and you're sure to have a safe and comfortable drive to Bryson City with your dog.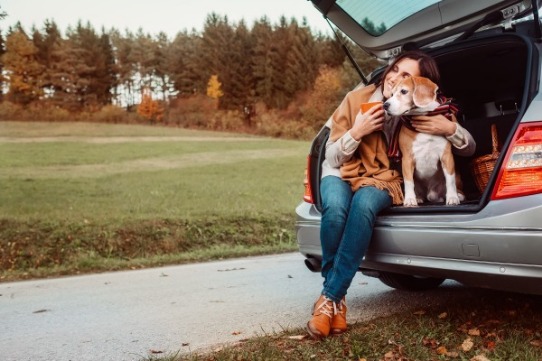 Heat kills- We all know how beautiful a Carolina summer day is, but even in fall or spring a car can heat up to dangerously high temperatures within minutes. Even a short stop for gas can be dangerous for your dog. Be sure to carefully monitor the temperature in your vehicle. Never leave your pet in a hot car.
Crate up- Just like humans, it is important to keep your dog restrained in the vehicle. A great option is a crate. Another option is to use some of the commercially made harnesses that are specifically made for dogs. Never travel with your dog in the back of a pickup bed uncrated.
Water and stops- Many dogs are not fond of the car, and even those that are still need water, food, and frequent stops to stretch, rehydrate, and relax during their trip.
Wear 'em out- Tired dogs travel better. Make sure to take your dog for a long walk or other exercise prior to beginning your trip. Many dogs will just curl up and sleep their way to the destination.

Travel Checklist
Dog Food (vacation is not the time to try a new brand)
Favorite chew toy, or other toys
Dog waste bags
Any medications
Treats and snacks
Grooming supplies
Favorite blanket or bed.
Make sure your dog is microchipped and/or has a dog collar with owner info
Food and water dish
Lead and leash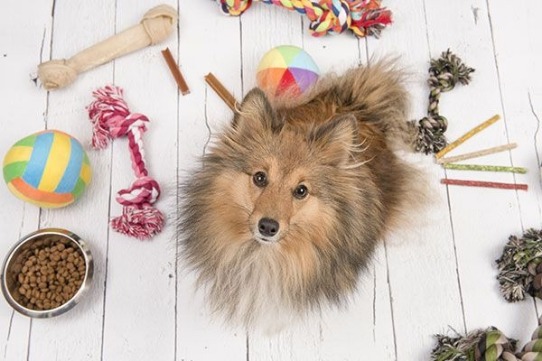 Making Your Dog Comfortable
Dogs are creatures of routine. They like habits and familiar surroundings. While getting to the mountains is a time of relaxation for you, it can be stressful for your dog. Here are a few tips to help make sure your dog transitions to mountain life with as little stress as possible.
Bring a familiar item like a stuffed animal, blanket or favorite toy. Exercise your dog often allowing him/her to get her curiosity and energy out. This will help settle the dog's pent up nervous energy. This is especially important when you first arrive at a new destination.
Let your dog explore the vacation home and get familiar with his/her surroundings. Be sure to look out for any unfamiliar or dangerous items. Talk to your dog in a normal voice as if you are at home. Dogs pick up on your tone. If they think you're worried they will worry, if they think you're relaxed, they will relax.
There! Now you and your furry family member are ready for the mountain retreat you deserve. Get out and explore all that the mountain of North Carolina has to offer.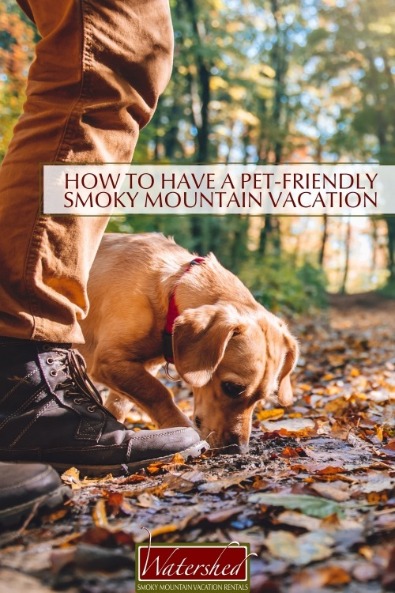 Book your smoky mountain Vacation today.
Like and follow us on your favorite social media.
Comment on this post!