---
Best Springtime Activities in the Smoky Mountains
Posted On Wednesday, March 06, 2019
---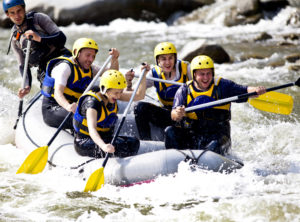 We're only a handful of weeks away from mid-70s, ultra-lush forestry, and fresh flowers here in Bryson City, North Carolina. It's not too late to book a well-deserved springtime getaway to the breathtaking Smoky Mountains! The serene wilderness surrounding our luxurious North Carolina cabin rentals will soon be an adult playground for thousands of thrill-seekers and outdoor enthusiasts.
Watershed Cabins
has a fleet of secluded, lavish
cabins
located throughout the region, most of which are within minutes of the Nantahala Outdoor Center, home to world-class whitewater rafting and zip lining adventures.
Whitewater Rafting
The highly-anticipated whitewater rafting season begins in mid-March, just in time for spring. The Nantahala Outdoor Center provides half and full-day guided rafting trips on six local rivers. Each river offers a unique Smoky Mountains experience, ranging from beginner to advanced. Browse through their many rafting options by clicking this
link
. Knowing the skill levels of your entire group is important when choosing a whitewater rafting trip. Each trip, regardless of location, provides jaw-dropping views of the surrounding Smoky Mountains (including the river gorge itself).
Ziplining
Some thrill-seekers would rather flash through the sky on a sturdy wire than crash along a raging river, and that's perfectly fine with us! Arguably the best
zip line course
in the Smoky Mountains is approximately 20 minutes from most of our luxurious North Carolina cabin rentals. Yet again, the award-winning Nantahala Outdoor Center provides these incredible mid-air journeys. Their half-day
mountaintop zip line tour
not only provides thrills and jovial shrieks, but you'll have a birds-eye view of the sky-high Smoky Mountains. We highly recommend their full-day whitewater rafting and ziplining
package
, or you can join an after dark "
moonlight tour
."
Mountain Biking
The best mountain biking excursion near our North Carolina cabin rentals is, without a doubt, the 42-mile
Tsali Recreation Area
Trail System. This extensive network of multi-use trails is one of the premier systems in North America thanks to its challenging, diverse, and beautiful landscape. The lengthy loops, ranging from seven to 14 miles, alternate days to accommodate both mountain biking and horseback riding crowds. There are four loops: Right, Left, Thompson, and Mouse Branch. This detailed
brochure
gives you an idea of where each trail leads. For all of your biking needs, head to
Tsali Cycles
, a full-service bike shop on the edge of Downtown Bryson City.
North Carolina Cabin Rentals
Watershed Cabins
has the area's most extensive collection of luxurious Smoky Mountain lodging near Bryson City, Whittier, Almond, Robbinsville, and beyond. Enjoy a glass of wine under the stars at
Stargazer
, watch a gorgeous Smoky Mountains sunset with a steaming cup of freshly-brewed coffee on
Sunrise Ridge
's massive deck, or gather around a crackling communal campfire at
Woodland Loft
. Nearly every one of our Smoky Mountain cabins provides mountain views, private water access, or an outdoor hot tub. Give us a call today at 1-888-604-3075 to book a well-deserved springtime getaway to the incredibly beautiful North Carolina Smoky Mountains!
Comment on this post!