---
Popular Movies You Can Watch That Are Set in the Great Smoky Mountains
Posted On Monday, December 13, 2021
---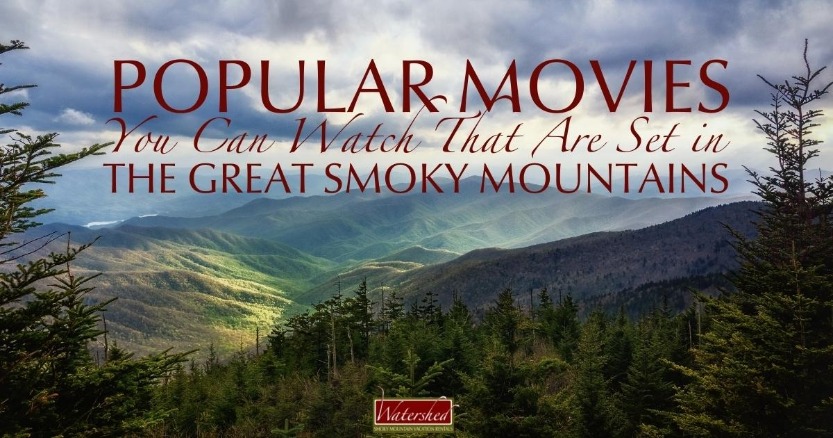 Whether you're looking to curl up in front of the fireplace in your NC mountain rental for movie night, or you want to revisit the scenic beauty of the Great Smoky Mountains when you can't be here in person—these movies will take you there. Check out some of the most popular movies set (or filmed) in the Smoky Mountains and put them on your watchlist.
A Smoky Mountain Christmas (1986)
Starring Dolly Parton, Lee Majors
If you're a sucker for holiday movie classics, then you probably have already watched Dolly Parton in the made-for-tv-movie A Smoky Mountain Christmas. If not, then put it on your watch list. Dolly is a famous Smoky Mountain native herself, so it's the perfect role for her in this family-friendly movie for all ages. The story follows a country singer (Dolly Parton) and a mountain man (Lee Majors) as they rescue seven runaway orphans from a sheriff and a witch (Anita Morris). If you're also a fan of Dolly's singing, then you'll have an added reason to watch this film which includes plenty of it.
The Fugitive (1993)
Starring Harrison Ford, Tommy Lee Jones
A U.S. Marshall (Tommy Lee Jones) chases a man accused of murdering his wife (Harrison Ford), who in turn is trying to track down the real killer before he himself is brought in. Despite being set in rural Illinois, much of The Fugitive was actually filmed in Western NC around Bryson City, the Blue Ridge Parkway, Dillsboro, and Sylva. You can go to the dam where Dr. Richard Kimble did his famous "Peter Pan" dive. You can also travel on the Great Smoky Mountain Railroad and see the wreckage remains on the private land owned by the railroad viewable on the Tuckasegee River Excursion. Park near the Jackson County Green Energy Park in Sylva, North Carolina and look down the slope to view the hollowed-out train used to ram the actual bus in the famous crash scene.
Nell (1994)
Starring Jodie Foster, Liam Neeson, Natasha Richardson
Jodie Foster was nominated and received many awards for her role in this film. Cut off from the modern world, Nell (Jodie Foster) is a wild child, who has lived her entire life with her mother in an isolated mountain cabin of North Carolina. When her mother dies, she is found by kindly Dr. Jerome Lovell (Liam Neeson), who is fascinated by Nell and the language she has developed. Lovell and psychologist Dr. Paula Olsen (Natasha Richardson) eventually camp out near Nell's cabin, slowly introducing her to the larger world she's never known. The movie's lake scenes were filmed on Fontana Lake in Graham County. Other filming locations included Franklin and Robbinsville.
The Clearing (2004)
Starring Robert Redford, Willem Dafoe, Helen Mirren
Wayne Hayes (Robert Redford) and his wife, Eileen (Helen Mirren), seem to have it all. Over the years, they've built a prosperous business together while raising their two children, Tim and Jill. But the family's dream life becomes nightmarish when disgruntled employee Arnold Mack (Willem Dafoe) kidnaps Wayne and holds him for ransom. The FBI invades their home and scrutinizes every detail of their life—and ultimately, it is left to Eileen to deliver the ransom and rescue her husband. The film is based on the true story of a 1980s kidnapping in the Netherlands, but moves the story to America. Portions were filmed in Great Smoky Mountains National Park.
The Hunger Games (2012)
Starring Jennifer Lawrence, Liam Hemsworth
The NC Smoky Mountains make the perfect setting for this dystopian movie. In what was once North America, the Capitol of Panem maintains its hold on its 12 districts by forcing them each to select a boy and a girl, called Tributes, to compete in a nationally televised event called the Hunger Games. Every citizen must watch as the youths fight to the death until only one remains. District 12 Tribute Katniss Everdeen (Jennifer Lawrence) has little to rely on, other than her hunting skills and sharp instincts, in an arena where she must weigh survival against love. The Hunger Games was filmed in multiple locations in Western North Carolina. The Pisgah National Forest was the District 12 location where Gail and Katniss hunt, as well as the rocky creek surrounding Katniss and Peeta's shelter.
A Walk in the Woods (2015)
Starring Robert Redford, Nick Nolte, Emma Thompson
This one's good for a few belly laughs and is based on a true story. After spending two decades in England, Bill Bryson (Robert Redford) returns to the U.S., where he decides the best way to connect with his homeland is to hike the Appalachian Trail with one of his oldest friends, Stephen Katz (Nick Nolte). Let the adventure (and misadventure) begin, since there's plenty of both as they make their way along their route. Parts of this movie were filmed at Fontana Dam, so keep an eye out for that scenery.
what's your favorite movie set in the great smoky mountains?
We want to know!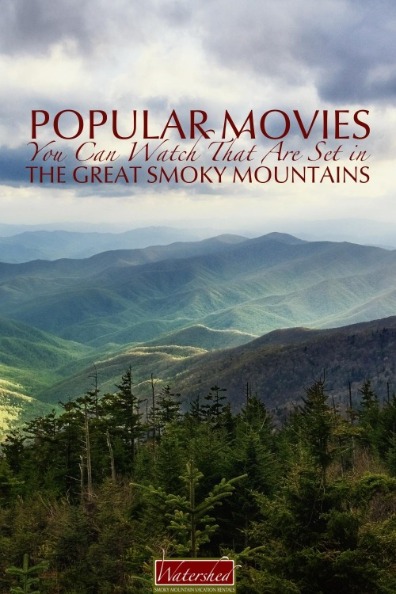 Comment on this post!