---
Never-Ending Adventure at the Nantahala Outdoor Center
Posted On Tuesday, April 03, 2018
---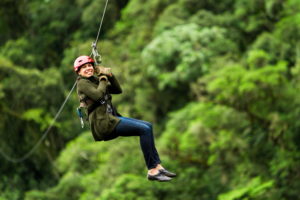 If you've ever visited the Smoky Mountains, you know that our neck of the woods is jam-packed with river and wilderness adventure. The
Nantahala Outdoor Center
(NOC) rests only a few scenic miles from nearly a dozen of our Smoky Mountain cabins with modern amenities and breathtaking vistas. The NOC offers tourists a taste of North Carolina mountain fun and excitement. Speed down the Nantahala River on a whitewater rafting trip, zip line through the breathtaking Nantahala Gorge, and mountain bike on a mountainside. Your upcoming getaway with
Watershed Cabins
is guaranteed to be the highlight of your summer!
Whitewater Rafting
A vacation to North Carolina isn't complete without a
whitewater rafting trip
down one of our rushing rivers. Whitewater rafting remains one of the most thrilling experiences imaginable.
Nantahala Outdoor Center
offers fully-guided excursions on the Nantahala, French Broad, Ocoee, Pigeon, and Chattooga rivers. Each river has different levels of difficulty from beginner to advanced. The NOC has the best prices and most skilled staff in the state. Whether you've never rafted or are aiming to master the most grueling rapids, you're bound to have the time of your life on one of our scenic and demanding rivers.
Mountaintop Zip Line Tours
We try to persuade all our guests to embark on an exhilarating mountaintop
zip line tour
. The
Nantahala Outdoor Center
provides brave guests the opportunity to cross this incredibly invigorating sport off their bucket list. We dare you to watch
this video
and not get goosebumps. Participants sling through the air, high above the lush forest, for hours on end. Many of our secluded Smoky Mountain cabins are a short drive from a day filled with mountaintop zip lining!
Outdoor Adventures
If racing down a rushing river and flying through trees on a mountaintop is too extreme then try an afternoon kayak, SUP, mountain bike, or hiking adventure. The NOC has scenic and moderate
mountain biking
trails that snake through the
Tsali Recreation Area
. We always recommend hiking enthusiasts to try the
Walk in the Woods Waterfall Excursion
for an afternoon of majestic waterfalls and breathtaking valley overlooks. Test your balance on a half-day
SUP trip
down the calm Chattahoochee River. The outdoor fun never ends when you book an adventure with Watershed Cabins and the
Nantahala Outdoor Center
.
All-Day Adventure Pass
We don't want to tell you how to spend your money, but the
Nantahala Outdoor Center
offers deep discounts on
all-day adventure passes
. Spend an entire day rafting, zip lining, mountain biking, and kayaking or SUPing for as low as $70 per person–that's over 50 percent off! These savings won't last forever, so
buy a pass
right now while there's still time.
Smoky Mountain Cabins
Relax in one of our rustic Smoky Mountain cabins after you've spent an entire day paddling, peddling, and zipping through our beautiful wilderness. We have nearly a dozen cabins within minutes of the
Nantahala Outdoor Center
. The
Call of Wild
has an ideal fire pit,
Dreamcatcher
has a deck hot tub that overlooks the mountains, and the
Eagle's Nest Hideaway
has a bird's-eye view of the entire valley. Discover the cabin that's perfect for your adventurous escape to the Smoky Mountains by exploring our extensive
collection of properties
.
Comment on this post!