---
Finding the Cabin with the Best Views
Posted On Thursday, February 1, 2018
---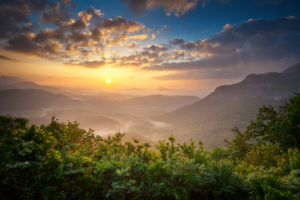 When you are visiting the Smoky Mountains, one requirement should always be to find the best views. Imagine waking up and drawing the shades open to find sprawling mountain views as the sun sits just above the horizon. Find Smoky Mountain luxury cabins with the best views through 
Watershed Cabins
. Make sure your stay is as incredible as the mountains themselves.
Begin Your Search
When you start out your search for a cabin that boasts beautiful views, it can be hard finding that ideal spot. Watershed Cabins is here to make that search much more transparent and effortless. Our website is designed so that you can efficiently narrow down your search with categories such as: "
Pet-Friendly Cabins
" and "
Exceptional View Cabins
" along with many others. Use these categories to your advantage and make finding a cabin that fits your taste a piece of cake.
The Bells and Whistles
As you browse through the cabins, it can be tough to decide which is the best choice for you. At this point, begin to skim the amenities. Each 
property
is unique, and by checking the facilities, you will be able to see which features each cabin offers. You will find that many of our Smoky Mountain luxury cabins have full kitchens, spacious dining areas, and extra touches like hot tubs and fire pits. Whether you are looking to be able to sit on the deck with a beverage and a few good people or would like to sit around a crackling fire under the mountain stars, Watershed Cabins can make it a reality.
Experience It in Person
If you are still not confident as to which cabin you would like to stay in, you can always
call us
at 1-888-604-3075. We can personally help you discover your perfect cabin match. Are you ready to meet your ideal Smoky Mountain cabin? Pack your bags and get ready for an excursion through 
Watershed Cabins
with views right from the windows of your rental that will take your breath away.
Comment on this post!