---
What's Happening This Fourth of July in Bryson City? Find Out Here!
Posted On Monday, June 26, 2023
---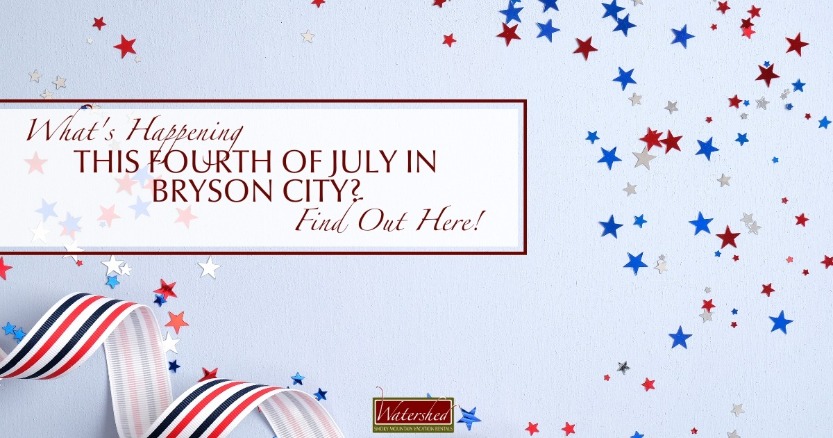 The Fourth of July holiday is rapidly approaching. If you're spending Independence Day here in the beautiful Smoky Mountains of North Carolina, you'll find there's a lot going on throughout the first week of July. Once you've booked your Bryson City cabin, the next step is to check out these festive events, things to do, and activities available to you and your family during your vacation. Haven't booked anything yet? That's okay! You can view our available cabin rentals right here. Now, mark your calendars and save these dates!
June/July 2023: Aquarium & Fly Fishing Museum Free Admission Days
Visit the Appalachian Rivers Aquarium and the Fly Fishing Museum (Located on the Tuckasegee River) on select dates with free admission! You can find those dates here.
The Appalachian Rivers Aquarium exhibits as many regional species of non-game and game fish as possible among its fourteen tanks, with a total exceeding 4,000 gallons of water. In addition to those tanks, there are two terrariums and a hellbender exhibit to showcase the variety of amphibians and reptiles in the Southern Appalachians, currently including frogs, turtles, and several species of salamanders.
The Fly Fishing Museum of the Southern Appalachians is a one-of-a-kind experience for the both the devoted angler and the curious non-fisher. Through exhibits and videos you'll learn about legendary "Stream Blazers," the evolution of rods and reels, basic knots, fly-tying, types of gear, types of gamefish, regional fishing waters, and the history of fly-fishing in the Southeast. Even if you know nothing about the sport or have no interest in fishing, the information along the wall or the vibrant and carefully-made flies in the display cases are sure to give you something to enjoy.
Both attractions are free, but donations are greatly appreciated. All well-behaved, leashed pets are also welcome.
🇺🇸 Saturdays in July 2023: Bryson City Eastern Market
Make it a market day at Bryson City's Newest outdoor market located at 980 Main St. on Saturdays from 11am to 3pm. Enjoy shopping the fresh baked goods, local honey, farm fresh eggs, freshly picked produce from local farmers, weaving, quilting, blacksmithing, pottery, jewelry, photography, glasswork, sculpture, keepsakes, gifts and so much more available to you. Details here.
🇺🇸 July 1, 2023: Fontana Trestle Train Featuring BBQ & Brews
Back by popular demand the Great Smoky Mountains Railroad BBQ & Brews rolls out this Summer! Featuring slow-cooked BBQ pork and chicken, prepared fresh and beer tastings showcasing local breweries. Departing from Bryson City at 7pm and returning at 9:30pm, these trains travel to the Fontana Trestle and beyond remaining parallel to the Fontana Lake stopping at the perfect viewing spot just around sunset for a spectacular view. A delicious BBQ meal is served during the trip. Details here.
🇺🇸 July 1, 2023: Great Smoky Mountains Railroad Brew Run
🇺🇸 July 1-2, 2023: Sweet Corn Festival at Darnell Farms
Bring the family out to Darnell Farms in Bryson City for the Sweet Corn Festival. This summer fun event is great for kids and kids at heart featuring vendors, live music, food trucks, corn eating contest, roasted sweet corn, dream whips, and kids activities for all ages. It's the perfect way to kick off summer in the mountains and your 4th of July holiday. Details here.
🇺🇸 July 1-2, 2023: Independence Weekend Festivities at NOC
Enjoy live music and fun adventures all weekend long at the Nantahala Outdoor Center over the weekend. Come on out and see what they have to offer. Your next mountain adventure awaits! Details here.
🇺🇸 July 4, 2023: Firecracker 5K Run
Start your July 4th holiday early at 8am with an easy 5K at Riverfront Park into the Deep Creek community and returning. You can register here.
🇺🇸 July 4, 2023: Bryson City Freedom Fest
Next up at 10am is Freedom Fest in downtown Bryson City. Enjoy arts and crafts vendors including pottery, wood-working, photography and art, jewelry, stained-glass and more. (Craft vendors close at 6pm.) Food vendors with festival favorites including funnel cakes, shave ice, Philly cheese-steak sandwiches, BBQ, kettle corn and more. Visit the restaurants or food trucks for dining indoors or on a patio, or at shady picnic tables or pavilions. Live music TBA. Elite Action Gaming Mobile GellyBall and Tactical Laser Tag Experience is also on site. Details here.
🇺🇸 July 4, 2023: Fourth of July Fireworks in Bryson City
End the Independence Day holiday with a bang! Experience a hometown fireworks show in Bryson City on the 4th of July at 10pm. The fireworks originate from Airport Hill, near downtown, and can be viewed from several vantage points in the area. Downtown streets are not closed but there are good spots on sidewalks, in Railroad Square, in the large train parking lot, and other business lots as well as several municipal lots. Details here.
🇺🇸 July 6, 2023: Paint & Sip at Mountain Layers Brewery
Mountain Layers Brewery hosts Paint & Sip nights in Bryson City. Mountain Layers Brewery and Taproom features two bars: one on the main level built around the brewhouse and another upstairs where you can drink on the outdoor deck overlooking downtown. The brewery has an awesome food truck on site called The Rice Wagon. The price for Paint & Sip includes everything you need to paint with along with the 2-hour step-by-step instructions. Let go and let it flow! Details here.
🇺🇸 July 6, 2023: Upper Cascades High Water Release Nantahala River
Several times a year, Duke Energy creates more forceful water releases in this Upper Cascades section of the Nantahala River where kayakers like to paddle. This is a great experience for onlookers to watch. Check the map for the specific observation location (the Upper Cascades are not located at the Nantahala Outdoor Center). Kayakers can get detailed information on the Upper Cascades High Water Releases from American Whitewater.
🇺🇸 July 7, 2023: Air Supply at Harrah's Cherokee Casino
Don't miss your chance to see Australian rock legends Air Supply performing live in concert at Harrah's Casino in nearby Cherokee, NC. Show starts at 7pm so get your tickets today from TicketMaster. Details here.
🇺🇸 July 8, 2023: Outdoor Artisans Market at Nantahala Outdoor Center
From the regional crafters to local guide artisans, stroll through this outdoor market at the NOC set up on the river banks of the Nantahala. Come and meet these vendors and more on the second Saturday of every month, May through September. Details here.
🇺🇸 July 8, 2023: Tim Hill Memorial Trout Tournament in Cherokee
Calling all anglers! With a registration fee of $15 and a two-day fishing permit for $17, covering both tournament days, you'll be fishing for your share of $10,000 by catching beautiful trout in rivers all across the Qualla Boundary (excluding the 2.2 miles of catch-and-release waters), which will be stocked with tagged fish.
When you catch one, you redeem it for cash prizes at the Natural Resources Enforcement Office, 517 Sequoyah Trail, Cherokee, NC 28719, which is across the street from Cherokee Welcome Center off Hwy 441. Prize redemption hours are from 2pm to 4pm. each tournament day, with a final tag turn-in time of 4pm on day two.
Register anywhere fishing licenses are sold or at FishCherokee.com by Friday, July 7, 2023. Fishing hours are one hour before sunrise and end one hour after sunset each day. Open to all ages and for all legal fishing methods. Details here.
So what are you doing this July 4th in Bryson CIty?
We want to know! Happy 4th!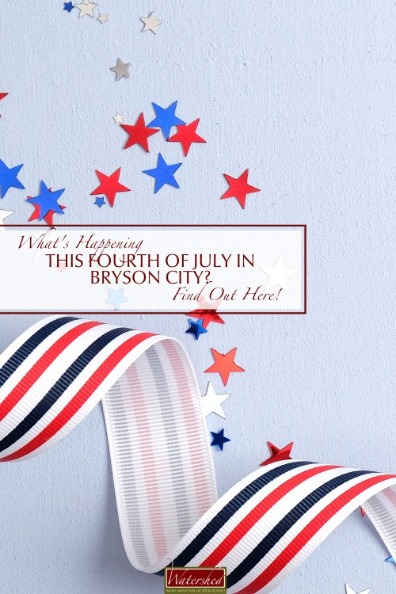 Comment on this post!