---
Why Fall is the Perfect Time for a Train Ride
Posted On Monday, September 27, 2021
---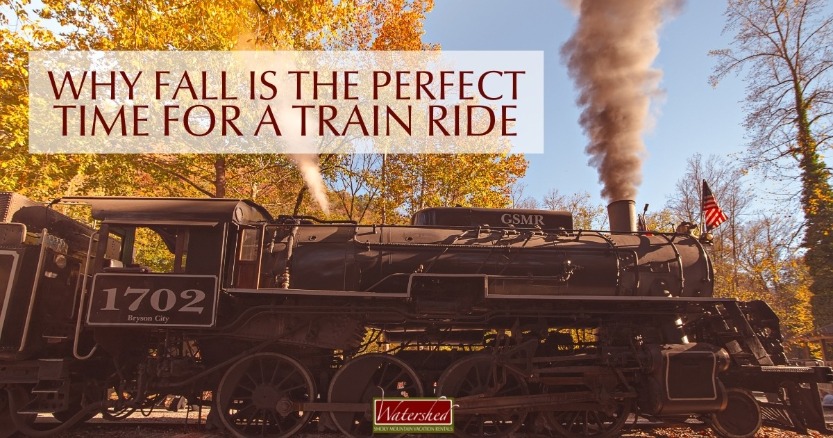 Like you really need another reason to book a fall getaway to the Smoky Mountains of North Carolina, right? Well if you do, add this one to your list! A train ride during the autumn season gives you a chance to enjoy the color show found in the Nantahala Gorge and Tuckasegee River areas. It's really quite beautiful in a way that words can't fully express. In short, you'll fall head over heels for fall here in the NC mountains. Seize the crisp, cool fall days and consider taking the family for a train ride on the Great Smoky Mountains Railroad.
According to the GreatSmokies.com website:
The Great Smoky Mountains Railroad has been named by USA Today as one of the "Top 10 American Train Rides" and "12 Most Scenic Train Rides in the US" by Oprah Magazine. Based in Bryson City, the railroad operates rail excursions with onboard dining through the remote corner of North Carolina. Your ride includes stunning scenery through tunnels, across rivers and lakes, through mountain valleys and into a deep river gorge.



Destinations include the small town of Dillsboro, NC, and the Nantahala Gorge. Some rides are with the diesel engine and some are with the newly restored steam engine #1702. When the steam is running you also have the chance to watch the people-powered engine turntable in action.



Before we give you our shortlist of reasons to experience a fall train ride through the Smokies, you should go ahead and check your calendar for dates when you can be here. You'll also want to take a peek at this Peak Fall Foliage Color & Elevation Chart to help you with your planning. That way you can look ahead and book ahead to take in all the autumn colors. Popular general excursions are scheduled to be operating daily with additional trips added for all 5 weekends of October!
Your Bryson City cabin is the perfect place to settle in for a while, and it's not far from the historic train depot where your railroad adventure begins. All aboard!
THE BEST REASONS WHY FALL IS THE PERFECT TIME FOR A SMOKY MOUNTAIN TRAIN RIDE
Awesome Mountain Fall Foliage
The fall color show in Western NC is one of a kind. The majestic and dramatic display of fiery sugar maples, buttery poplars and crimson oaks is nothing short of spectacular, and you'll have a first class ticket with a front row view.
Voted Top 10 American Train Ride
USA Today often features national favorites and the Smoky Mountain Railroad rolls into the Top 10 of the best American train rides. Give your family an experience they won't soon forget.
Beautiful Western NC Temps
Fall temperatures in Bryson City and the surrounding area typically reach the low to mid-70s during the day making it idyllic for sightseeing excursions such as a train ride, whether you choose the open-air car or the covered first class ride.
Named Most Scenic Train Ride in the US
Not only is it voted one of the best rides but also one of the most scenic, according to Oprah Magazine. Who are we to argue? We think you'll agree that it's a lovely way to spend your day.
Dine in a First Class Train Car
See the Smokies by train and enjoy a boxed lunch along the way. Or experience one of their three unique food and drink pairing options available during the year. Click here to learn more.
Historic World-Class Steam Engine Ride
Experience the thrill of rolling through Western North Carolina's hills and valleys on the #1702 locomotive that dates back to 1942, a commissioned WWII Steam Engine plan. It's one of two remaining in the United States.
Daily Trips Added Every October Weekend
There are plenty of reasons why they add more daily train rides during the month of October. It's breathtakingly beautiful for one. Secondly, it's a popular time for an NC Smoky Mountain vacation.
Free Train Museum Admission
Complimentary admission to the Smoky Mountain Trains Museum with any train ticket purchase! Smoky Mountain Trains has a collection of 7,000 Lionel™ engines, cars and accessories, children's activity center, and gift shop.
ENJOY THIS SHORT VIDEO OF THE GREAT SMOKY MOUNTAINS RAILROAD IN THE FALL
HAVE YOU TAKEN AN AUTUMN TRAIN RIDE through the smokies yet?
We want to know!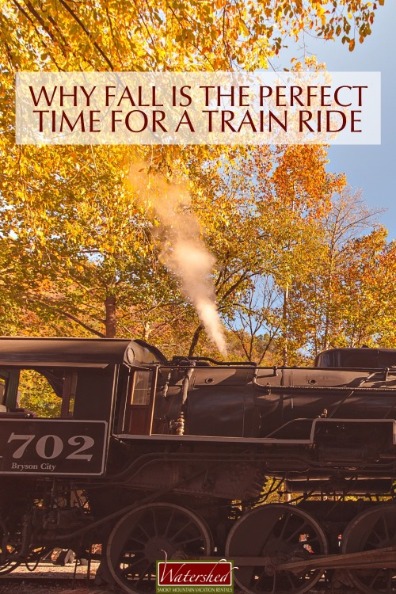 Comment on this post!