---
Best Autumn Hikes in the Smoky Mountains
Posted On Thursday, August 16, 2018
---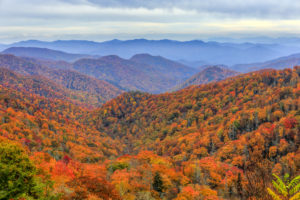 Millions of people are counting the days until summer fades into autumn. Americans love pumpkin carving, hayrides, pumpkin spice lattes, and breathtaking fall foliage – why wouldn't we? There's genuinely something in the fall air that brings joy to our relationships. The Smoky Mountains are the perfect location for a colorful autumn escape. When it comes to choosing cabins in Cherokee NC,
Watershed Cabins
reigns supreme. Our luxury mountain cabins are scattered throughout this breathtaking region. Is there anything more refreshing than a mid-fall Smoky Mountain hike? It's time to start planning an autumn getaway to beautiful North Carolina by analyzing these colorful hikes.
Deep Creek / Juney Whank Falls
There is no better place to start a Smoky Mountain hiking trip than with the 4.9-mile
Deep Creek Trail
, only three miles north of Bryson City NC. Deep Creek Trail is a colorful loop that passes picturesque
Tom Branch Falls
.
Indian Creek Falls
is a short detour off the trail nearly halfway into the hike. The second half of the path has a slight gradual incline into the beautiful hillside. Finish the three-hour walk with a short stroll to
Juney Whank Falls
. The tall trees that surround the creek and trails are mostly bright yellow and deep red. Breathtaking
Buffalo Hollow
is less than two miles from the trailhead!
Andrews Bald / Clingmans Dome
Start your hike with a quick half-mile stroll to stunning
Clingmans Dome
. This highly-trafficked visitor center has some of the best Smoky Mountain views in the state. After snapping some photos of the valley, start trekking south on the
Forney Ridge Trail
. This trail is an out an back hike that leads you to Andrews Bald. Even if low clouds somewhat mute the colors in this region, the hike is still one of the best in the Smoky Mountains. You'll know you've made it to Andrews Bald when you discover treeless vegetation and shrubberies in a large clearing.
Andrews Bald Trail
is a brisk 3.5-mile out and back hike.
Oconaluftee River Trail
The
Oconaluftee River Trail
is an out and back trail that begins at the Oconaluftee Visitor Center. The path cuts through the lush forest and mostly follows the rushing river. Families with enthusiastic young hikers will love this straightforward trail. A large elk population lives in these woods, so keep your eyes peeled! Many of our cabins in Cherokee NC, including the woodland log masterpiece
Cherokee Charm
, are within 10 miles of the Oconaluftee River.
Cabins in Cherokee NC
For even more colorful autumn hiking excursions seek out the
Mingo Falls Trail
,
Noland Divide Trail
, and the
Goldmine Loop Trail
.
Watershed Cabins
has western North Carolina's premier fall properties. One of our best cabins in Cherokee NC is
Happy Trails
, a secluded two-story, two-bedroom log cabin surrounded by tall, colorful birch trees. This outrageously inexpensive cabin has an outdoor hot tub, large deck, fireplace, and a hiking trail to Tracy Falls. Start planning an autumn outdoor adventure to the beautiful Smoky Mountains today!
Comment on this post!