---
How to Have the Best Memorial Day Holiday Weekend in Bryson City, NC
Posted On Monday, May 8, 2023
---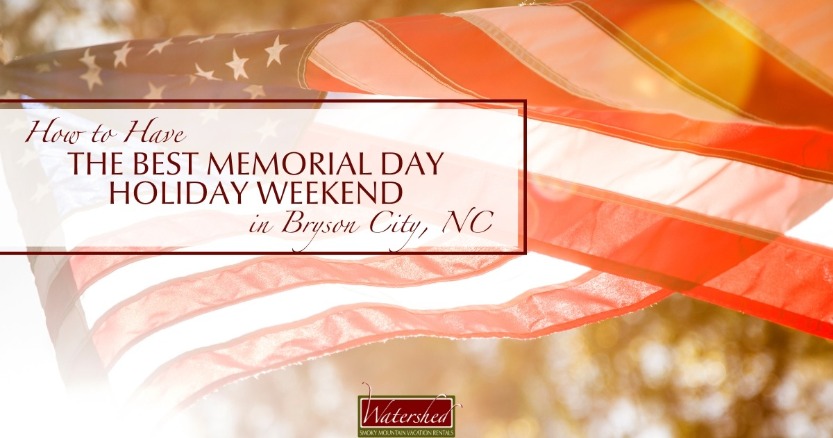 The Memorial Day Holiday weekend is coming fast. Have you made your plans yet? Spend a long weekend (or more) in the Smoky Mountains of North Carolina. There are plenty of ways to spend the holiday with your family and friends in Bryson City, where you can enjoy the mountain beauty, attend fun and family-friendly events, learn about the local history, and explore the great outdoors. Here's how to have the best one yet! Consider making Bryson City your family's Memorial Day holiday tradition by coming back year after year. Everything is better in the mountains...
1. Book your Bryson City cabin in the NC Smoky Mountains.
Your Memorial Day holiday getaway all starts with your Bryson City cabin rental. Watershed Cabins has cabins and vacation rentals available in a variety of sizes, styles, and locations. We know each family is unique, so we offer a wide range of rental options and amenities that are sure to please. Our vacation rental categories include pet friendly, motorcycle friendly, lakefront, exceptional views, Smoky Mountain Modern, and Nantahala Village cabins. You can search cabin rentals by date or view our full inventory of cabins here.
2. Get to know the local history better.
Brush up on your Bryson City, North Carolina history by visiting some of the local sites that make learning come alive. The Swain County Visitor Center and Heritage Museum, the Museum of the Cherokee Indian, the Oconaluftee Visitor Center and Indian Village, and the Scottish Tartans Museum are a few of the many wonderful options that bring the local history to life. You can learn more about these and other NC historical sites here.
3. Kick off the unofficial start of summer with your family and friends.
Memorial Day is the symbolic start of summer, so kicking back and spending some quality time with your family and friends is definitely in order. Whether you plan a mountain picnic somewhere scenic, do a traditional Memorial Day barbecue, embark on a lovely summer hike, or just enjoy the rest and relaxation found in the Smokies—you're sure to enjoy this long weekend with the ones you love the most no matter how you spend your time.
4. Enjoy a Bryson City Memorial Day weekend event.
Memorial Day events and things to do abound over the holiday weekend. Whether you're interested in trying your hand in a trout fishing tournament, listening to tribute bands and live musical concerts, shopping the summer artisans and farmers markets, attending a wine tasting or riding the beer train—you can find all these things to do and more on the Bryson City events calendar. Save the dates!
5. Do something to honor the true meaning of Memorial Day.
Last but certainly not least, take the time to remember, honor, and discuss the true meaning of Memorial Day with your family and friends. Share the stories and sacrifices made by those in your own family who served. Then take it a step further by visiting a nearby cemetery with military history where you can learn more about those who gave the ultimate sacrifice. You can find the graves of veterans who were laid to rest in the Great Smoky Mountains National Park or visit the Bryson City Cemetery.
What are you doing this memorial day in Bryson City?
Share with us in the comments below!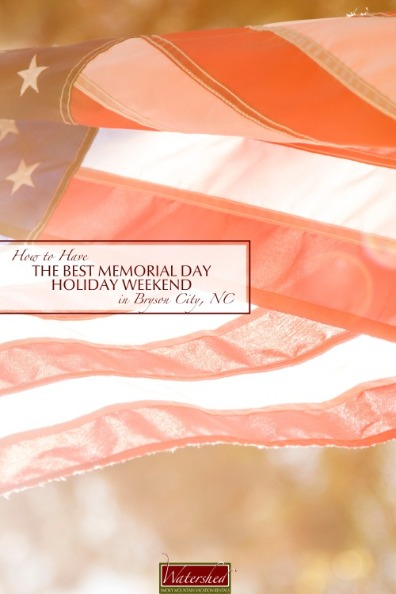 Comment on this post!