---
Wonderful Western NC Waterfalls Not Far from Your Bryson City Cabin Rental
Posted On Monday, July 11, 2022
---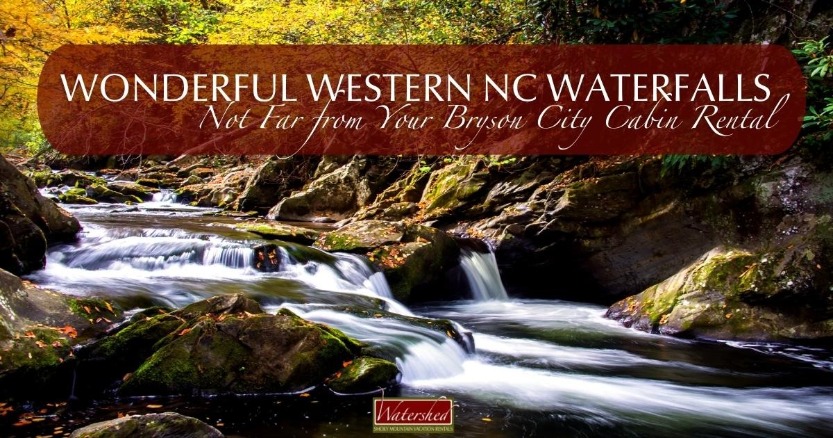 Western North Carolina has numerous waterfalls for you to experience and explore during your next vacation in the NC Smoky Mountains. Today we're highlighting nearby waterfalls that are close and convenient to your Bryson City cabin rental. We've included video tours of each of the major waterfall areas, so that even if you can't be here right now—you can still enjoy all the beauty no matter where you are.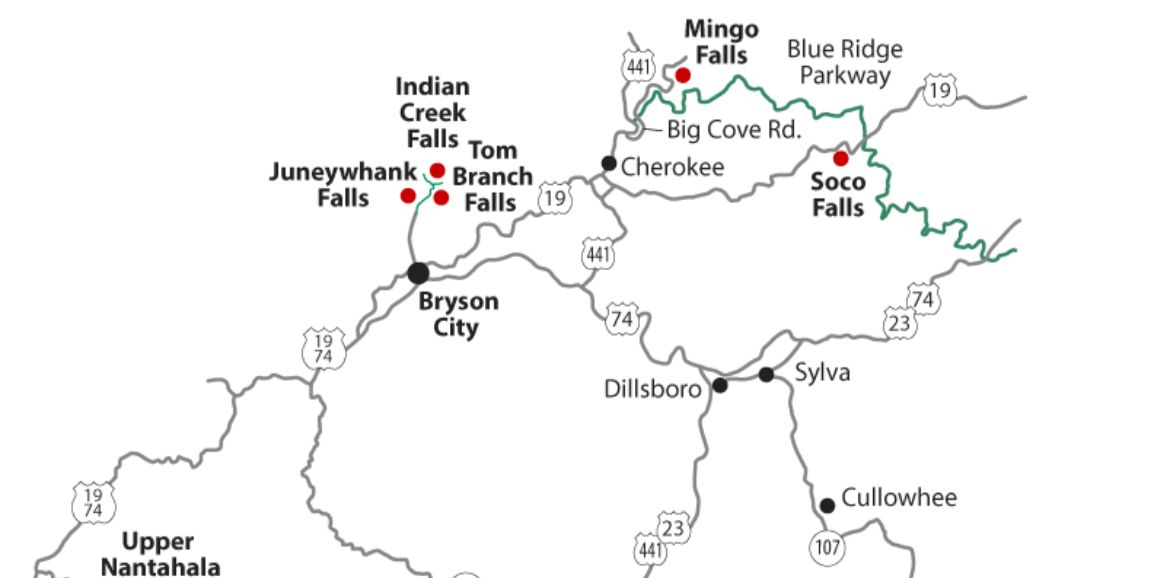 WATERFALLS IN THE DEEP CREEK AREA
INDIAN CREEK FALLS, TOM BRANCH FALLS & JUNEY WHANK FALLS
The Deep Creek Area offers a trio of waterfalls all on one trail: Indian Creek Falls, Tom Branch Falls, and the Juney Whank Falls.
They are all beautiful to visit any time of the year. Spring offers wildflowers along with the waterfalls, summer has plenty of shade on the trail, and autumn offers a color show of changing leaves.
Allow approximately 1.5 hours to enjoy a leisurely walk to see these three waterfalls. You can also download and/or print a Deep Creek Area waterfall map here.
Watch the video for a walking tour of the trail and falls.
WATERFALLS NEAR CHEROKEE, NC


MINGO FALLS
There are two spectacular waterfalls on the Cherokee Indian Reservation. The first is Mingo Falls, north of town on Big Cove Road.
Meaning "Big Bear" in the Cherokee language, Mingo Falls is located in the Big Cove community just north of Cherokee. At 120-feet tall, it is one of the tallest waterfalls in the Southern Appalachians.
Check out this video tour to get a sneak peek for yourself and to plan your visit.


SOCO FALLS
The second waterfall you'll find on the Cherokee Indian Reservation is Soco Falls.
This double waterfall on US 19 is about 11 miles east of Cherokee on the road to Maggie Valley. There's a small pull-off on your right and a short walk leads you to a viewing platform for the falls.
Watch the video tour to see it for yourself or plan your visit next time you're vacationing in the Great Smoky Mountains.
WATERFALLS SOUTH OF BRYSON CITY, NC
NANTAHALA CASCADES
The Nantahala Cascades is a series of cascades that begins 1000 feet above the gorge floor. To reach the cascades, travel along US 19/74 to the southern end of the Nantahala Gorge. Turn onto Wayah Road, where all the rafts launch for rafting trips. After you pass the launch site and the Nantahala power station, you will be driving right beside the water. You can oftentimes watch kayakers navigating these cascades.
WATERFALLS ON THE US 64 CORRIDOR
There are several nice waterfalls south of the Bryson City area. All are along the US 64 corridor that stretches east-west along the southern areas of western North Carolina.
If you're looking to make a full day of waterfall viewing, take a look at the Franklin/Highlands waterfall loop. Many falls are accessible from the road while several will require an easy to moderate walk to view.

What's your favorite western nc waterfall?
Let us know in the comments below!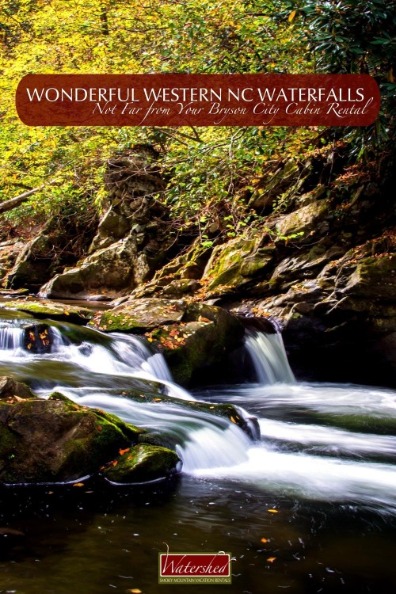 Comment on this post!