---
Fall in Love with Bryson City with These Romantic Adventures for Two
Posted On Monday, February 13, 2023
---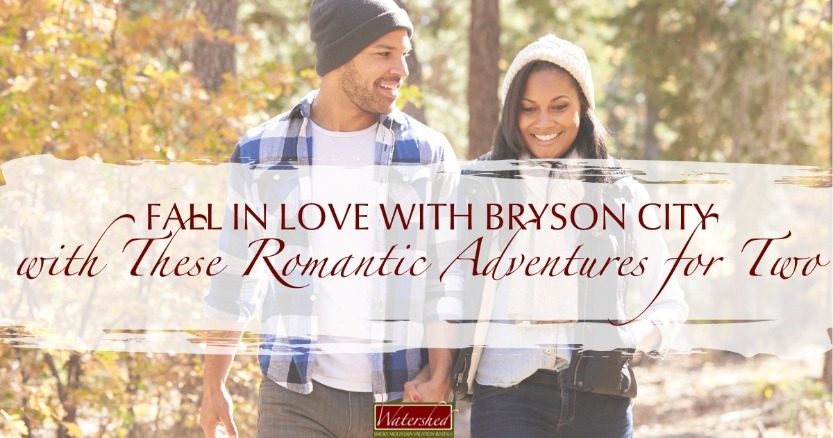 Ah, love is in the air! Whether it's Valentine's Day, your anniversary or other special occasion, or just any ordinary day—you can enjoy an abundance of romantic adventures together with your partner during your Bryson City vacation in the Smoky Mountains. Here are a few favorite couples' activities and things to do that are perfect for two. Your romantic mountain escape starts right here.
A Walk to Remember
From scenic strolls through downtown Bryson City to tree-lined hikes among mountainous peaks and valleys, there is always a romantic walk to be had right outside the door of your cabin. Walk hand-in-hand along the riverside, lakeside, or mountainside and embark upon a walk to remember each and every day of your Bryson City vacation. Don't forget about the nearby waterfalls, too.
Adrenaline-Inducing Adventures
Are you an adventurous couple who likes heart-pounding, adrenaline-inducing outdoor activities? Then you are in the right place. Bryson City and the surrounding Smoky Mountain towns offer plenty of ways to get outside and feel the thrill of the natural world with all it has to offer. Hiking, biking, zip lining, whitewater rafting, paddling, climbing, boating and so much more are all part of the mountain experiences available to you and yours. The couple that plays together, stays together!
Coffee Dates & Sweet Spots
The local coffee shop scene makes for great mornings together spent sipping your favorite coffee drink paired with something from the bakery. Dine in or take it to go as you head out on your mountain vacation adventures. The choice is yours! You can even bring some of your favorite beans or ground coffee back to your cabin rental to enjoy each morning of your vacation. Here are some popular coffee shops in and around Bryson City that you're sure to love.
Dinner for Two
Whether you prefer to stay in and create your own dinner for two in your cabin rental kitchen, or you opt to go out on the town and experience some of Bryson City's best dining, you're guaranteed to have a lovely evening together. You can read our previous post on a few local favorite restaurants here.
Glam It Up
Get dressed to the nines and get ready for a lively night out at Harrah's Casino in nearby Cherokee, NC. Enjoy drinks, dinner, entertainment, shopping and more with a date night like no other. It's less than a 20-minute drive from Bryson City and definitely worth the visit.
Road to Nowhere
Go off the beaten path a take the scenic drive and hike to the Road to Nowhere in the Great Smoky Mountains National Park. This six-mile road was never completed but still remains a favorite destination for visitors and vacationers. Scenic lookouts, views of Fontana Lake, and the iconic tunnel are all part of the experience. You can read more about it and how to get to it from Bryson City here.
Scenic Smoky Mountain Train Rides
All aboard a romantic ride through Smoky Mountains departing from the Bryson City Depot. Reserve your ticketed adventure and then sit back, relax, and share a scenic journey that is sure to please. The Great Smoky Mountains Railroad offers a variety of options including Sunset Tuckasegee River rides, Nantahala Gorge excursions, Smoky Mountain beer runs, and wine tasting events just to name a few.
Spa Time
Pamper yourself, your loved one, or better yet both! Enjoy some restoration and rejuvenation at one of the Bryson City day spas or massage therapists and know you're in good hands. It's not often that you get to take a couples getaway, so be sure to make the most of it. Find relaxation and enjoy a true vacation.
Wineries & Breweries
We talk a lot about our Bryson City breweries on this blog, so it's no surprise we think that they're a great place to be. Don't forget about the wineries and wine shops, too. The Bryson City Wine Market and Deep Creek Winery are two wonderful options. Stop by for afternoon refreshment or make it a date night destination.
What's your favorite couple's adventure?
Let us know in the comments below.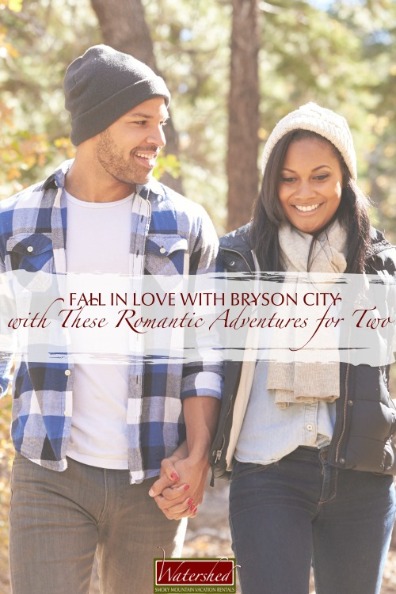 Comment on this post!