---
Top 3 Reasons You Need a Spring Break in Bryson City NC
Posted On Monday, March 13, 2023
---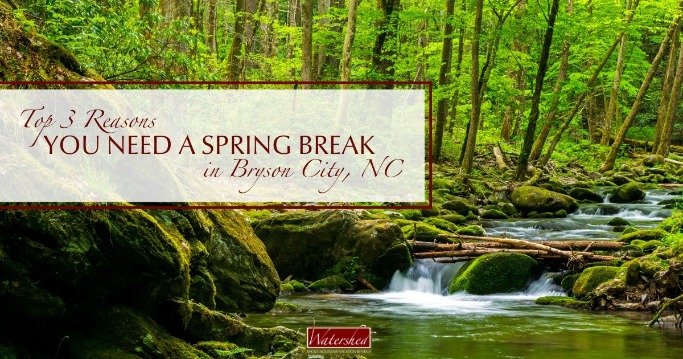 Spring is a beautiful thing, especially in the Smoky Mountains of North Carolina. The verdant landscape showcases its many hues of green, the weather begins warming up, and the wildflower blooms dot the epic scenery with a kaleidoscope of colors. You may think that a spring break is just for students on their academic break, but you'd be wrong. It's a wonderful time of year for anyone and everyone to enjoy a mountain escape in Bryson City, NC. Couples, families, solo trips, dog-friendly vacations with your four-legged best friend, or a getaway with friends—here are the top 3 reasons everyone needs a spring break in the Smokies.
1. You and your family probably need a vacation right about now (and you probably have time off, too).
Winter is waning and the change of seasons has already begun. Welcome in the warmer weather and with a change of scenery. A change of latitude truly does bring a change in attitude, so if your kids have a spring break, your family has a long Easter holiday weekend, or your vacation days are starting to pile up—now is the time to make it official by marking off some dates on the calendar. Remember, you only regret the vacations you didn't take...
2. Renting a cabin in the NC Smoky Mountains is the perfect place for a relaxing getaway.
The best thing about cabin rentals in the Smoky Mountains is that you can have it your way! You choose the location you love, the amenities you want, and the type of rental that best suits you and your family's needs. Get away from the daily grind, reconnect with nature, and nestle yourself in a wooded wonderland. The mountains were made for relaxation and rejuvenation. Click on the Cabins tab at the top of this page for a quick listing of categories that will help get you started on finding the right cabin for your vacation or view all of Watershed's cabin rentals.
3. Bryson City is an awesome destination for mountain lovers of every kind.
What does springtime in Bryson City have to offer you? A lot! Hike the Great Smoky Mountains National Park,
go fly fishing
,
take a motorcycle ride
,
walk to a waterfall
,
try whitewater rafting, go ziplining over the Nantahala Gorge
,
enjoy a scenic train ride through the Smokies
,
observe the wildflower blooms
,
go elk watching
, and so much more. Don't forget about the
local events
that are also happening all around you. St. Patrick's Day, Easter, and the Spring Equinox are all celebrated in unique Bryson City style. Even if you're one who prefers to stay tucked away for a few days undisturbed by the outside world, you can certainly find that peace and tranquility right here. Who's in?
ready to plan your smoky mtn spring vacation?
You can do it right here, right now. ⤵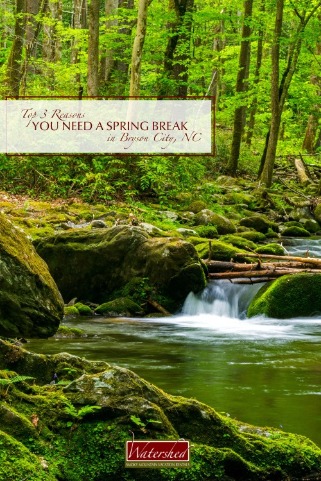 Comment on this post!